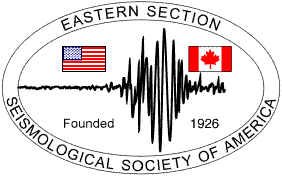 Eastern Section
The Eastern Section SSA is a separately incorporated technical section of the Seismological Society of America (SSA). It is focused on advancing the science of the seismology of Eastern North America and intraplate seismology.
Collected here are some short notes on the history and activities of the EASTERN SECTION of the Seismological Society of America (SSA).
History and Recent Incorporation

by Eastern Section President David W Eaton (from SRL 80:2, May/June 2009)
The 84th Annual Meeting of the Eastern Section of SSA, will be held 29–30 October, hosted by the Department of Geosciences of Virginia Polytechnic Institute and State University in Blacksburg, Virginia. Please visit the meeting website for additional information.
The Jesuit Seismological Association Award for Contributions to Observational Seismology
Application for the Jesuit Award [PDF; 49 KB]
Earthquake Notes was an official publication of the Eastern Section of the Seismological Society of America. Volume 1, Number 1 of Earthquake Notes appeared in July 1929. In 1987, Earthquake Notes was renamed Seismological Research Letters (SRL).
A searchable web database of Earthquake Notes articles is available and SSA has some back issues for sale.
Note: The seismogram in the above logo is of the 5 September 1944, 04:38 UT Cornwall-Massena earthquake recorded at Georgetown University, Washington, DC.