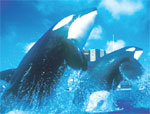 2012 Annual Meeting
17–19 April
San Diego, CA
Information for Presenters
Oral Presenter Information
Oral presentations will be in Pacific Salons 1, 2, 3, 4 & 5 and 6 & 7. For the exact time and room of any presentation, please check the schedule.
You will have access to a laptop with LCD projector, wireless remote, and a laser pointer.
Please bring your presentation to the meeting on a flash drive or CD to load on the in-room laptops. There will be the following equipment:
Microsoft Windows XP PC laptop with Office 2003 & 2007 (with PowerPoint 2007 & 2003) and Acrobat.
Apple Mac OS X laptop with PowerPoint 2008, Acrobat and Keynote.
You will not be able to use your own laptop for your presentation. You may load your presentation on one of the conference laptops before the first session (7:30-8:15), during the coffee break, or during lunch preceding your presentation. A technician will be in each room to assist with the loading.
Please remember that you are allocated 15 minutes total. This includes time for you to be introduced, give your presentation, answer any questions, and do any wrap-up. Therefore, plan your actual presentation for no more than 12 minutes. We have a tight schedule and it is important that each presenter stay within the time limit.
If you have any special AV requirements or audio clips that go along with your presentations, please e-mail 2012meeting@seismosoc.org before April 1st and we will try to make necessary arrangements with the hotel.
Poster Information
Your poster board will be in the Golden Ballroom.
The poster area will open at 7:00 AM, ninety minutes before the sessions begin each day. Breakfast will be served in the same room starting at 7:30 each day. Please hang your poster sometime before 8:30 AM the day of your session if possible – EVEN IF YOUR POSTER IS SCHEDULED FOR AFTERNOON. Your poster will need to be taken down by 6:00 PM the day of your session. Please note that it can stay up all day EVEN IF IT IS SCHEDULED FOR THE MORNING.
Although your poster will be up all day, our goal is to allow you to focus your time at your poster in one half of the day. Your poster is assigned to either morning or afternoon. To determine when your poster is scheduled, please check the schedule. Please note your poster board sequence number to determine where to hang your poster.
When you get to the meeting, you will be asked to post a notice at your poster as to what specific time(s) you will be at the poster site.
The poster board usable space is 3 ft 9 in high x 7 ft 7 in wide. We will provide push pins. For more information, email 2012meeting@seismosoc.org.

---
[ Back ]