SSA Co-Sponsors Public Briefing on "Disaster Preparedness: Lessons from the Great Southern California ShakeOut"
30 Jul 2009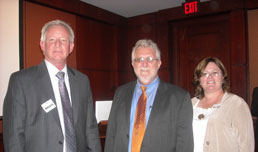 Panelists at the briefing were (l-r): Gary Sturdivan (East Valley Water District), Stephen Sellers (CalEMA), and Lucy Jones (USGS).
Washington, DC– Last November, over 5 million people participated in the Great Southern California ShakeOut, making it the largest disaster preparedness drill in U.S. history. On July 29th, 2009 the Congressional Hazards Caucus Alliance held a public briefing at the U.S. Capitol Visitors Center on "Disaster Preparedness: Lessons from the Great Southern California ShakeOut." Jointly sponsored by SSA, GSA, AGU and IRIS in cooperation with the Congressional Hazards Caucus and the Co-Chairs of the Caucus, Senators Mary Landrieu, Lisa Murkowski, and Ben Nelson, and Representatives Dennis Moore, Jo Bonner, and Zoe Lofgren. Approximately 45 people attended the briefing including key staffers from a number of Senate and House offices.
Panelists were Lucile Jones, Chief Scientist, Multi Hazards Project, U.S. Geological Survey, Gary Sturdivan, Emergency Manager, East Valley Water District, San Bernardino, California, and Steven Sellers, Assistant Secretary for Prevention, Operations and Recovery, California Emergency Management Agency (CalEMA). They highlighted the science behind the ShakeOut and the implementation of the ShakeOut to strengthen infrastructure and improve emergency response. Some of the keys to success included a broad-based outreach program, media engagement, and public advocacy by hundreds of partners. A comprehensive science-based earthquake scenario helped make the hazard real to people, and communication approaches that applied decades of social science research helped get them to be better prepared.
The panel also focused on the interdependency of utilities and infrastructure resilience, and the tangential losses to the nation that would be associated with California being off-line with a large earthquake in Southern California. Even more important than the ShakeOut event itself has been the changes that have been taking place to strengthen resilience before disaster strikes, with steps being taken by communities, critical infrastructure operators and emergency managers. A statewide ShakeOut exercise is planned for October 15, 2009, in what is hoped will become an annual exercise. And work is underway on a statewide scenario for a catastrophic winter storm, taking the lessons of ShakeOut to a new set of hazards. Speakers hope that the ShakeOut will also serve as a model for other regions of the country, including the Central US observations of the anniversary of the New Madrid earthquakes of 1811-1812.
[ Back ]