DC CURRENTS
Updates on Recent Government Relations Activities
September 17-18, 2013
SSA Members Visit Washington
SSA members went to Washington D.C. the week of 16 September 2013. They participated in a variety of events aimed at communicating the importance of the geosciences and seismology to policymakers.
Sixth Annual Geo-CVD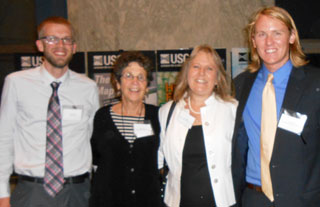 SSA co-sponsored and participated in the 2013 Geo-Science Congressional Visits Day event, September 16-17. With over 70 geoscience professionals participating, the event consisted of a half-day informational session followed by a day of Congressional visits.
Susan Newman, SSA Executive Director and Lisa Grant-Ludwig, SSA President-Elect, and two Student Travel Grant winners - SSA Student members Kevin Foster, Virginia Tech, and Kevin Milner, University of Southern California represented SSA in D.C.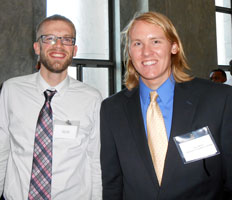 This year was quite special because it was the first time SSA was able to send Student members to Washington, D.C. to participate in the GEO-CVD. SSA would not have been able to provide this Student Travel Grant opportunity without the assistance of Jim Lewkowicz, Weston Geophysical Corporation.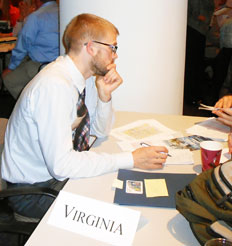 Tuesday's half-day session included presentations on: how the government works to pass bills into laws, how the budget process works for federal funding and the all important "How to Conduct a Congressional Visit." Participants were given insight into government workings by the Government Relations staff of SSA, GSA, AGU and AGI. Additionally, a panel discussion took place with current House staff and Congressional fellows, providing first hand experience from the front lines.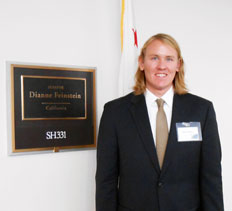 Wednesday was spent storming the halls of Congress, spreading the message that sustained and continued funding in federal geoscience research and development programs is essential, even during these difficult fiscal times.
Geo-CVD, an annual event, was also co-sponsored by the American Geological Institute (AGI), the American Geophysical Union (AGU), the Association of Environmental & Engineering Geologists (AEG), the Geological Society of America (GSA), and the University Corporation for Atmospheric Research (UCAR).