Page 11 of 11. An Electronic Supplement to Bilham, R.,Tom LaTouche and the Great Assam Earthquake of 12 June 1897: letters from the epicenter. Seism. Res. Lett. 79(3), 426-437, 2008. doi: 10.1785/gssrl.79.3.426.
1938 Death of LaTouche
LaTouche's obituary written by Charles Stuart Middlemiss and published in 1939 occupies fewer than two printed pages. I preface it with a short note about the writer, Middlemiss, who passed through St. John's College Cambridge at the same time as LaTouche, but joined the Geological Survey of India two years later, after teaching briefly in Roorkee. Middlemiss' geological teaching notes are archived still in Roorkee (V. K. Gaur, personal communication 2006). Middlemiss worked in the GSI until 1917 (three years after mandatory retirement on account of WWI) and then took a post in Kashmir until he retired in 1930. He outlived LaTouche by 7 years dying in 1945 (Fermor, L. L., Obituary Notices of the Royal Society, 14(5), 63,1945]. Although Middlemiss and LaTouche were friends and Middlemiss figures on many pages of LaTouche letters home, especially at the turn of the XXth cenury when Oldham, LaTouche and Middlemiss were being considered for the next director to replace Griesbach, LaTouche's writings show his friendship with Middlemiss was never truly a close one. La Touche admired Middlemiss's artistry, and his tenor singing voice, as well as his curious enthusiasm for Esperanto and musical notation, but he comments that he thought Middlemiss' ability to criticise came too easily. In 1886 Middlemiss and LaTouche were both in Shillong, and although within six days Middlemiss had succumbed to a two week bout of malaria, Middlemiss recalls LaTouche fixing the organ at All Saints church, which was later destroyed by the 1897 earthquake.
Shillong 10 August 1886 [British Library Mss Eur C258/5 LaTouche papers]. I have brought a friend up here to keep me company. His name is Middlemiss & he is also in the Geol Survey, so of course he is a jolly good fellow. We had a miserable journey up here from Gauhati in the tonga. The distance is 63 miles and we took over 18 hours over it. The road is full of holes in places and in others I covered with new metal so that the ponies could hardly get along. On the last two or three stages the ponies would stop every fifty or sixty yards and we had to get out and put our shoulders to the wheel and walk the greater part of the distance. Then to make matters worse it began to pour with rain about sunset and rained hard until we got in at 12 o'clock at night. I never had such a journey in my life. Shillong 18 August 1886 Middlemiss seems to like the place very well. He will stay till about the end if the month and then has to go into camp away to other side of India near Naini Thal. Shillong 31 August 1886. My friend Middlemiss is with me still and is much better, He has been very ill with fever this last fortnight.
Six years later we read: Slept the night at Harranpur (near Lahore). We picked up Mr Middlemiss, who is on the survey and a great friend of mine, at Lake Musa, the junction. He had come down from Abbotabad. [10 April 1892, Lahore, Mss Eur C258/11 to Polly, his sister]. A decade later we read " Went with Mr Middlemiss to visit Smith in hospital with fever. Mrs Middlemiss is here. They have left their children at home. Both of them are looking much older than when I saw them last and M. is quite grey, where he is not bald." [United Services Club Calcutta 20 May 1902 Mss Eur C258/70], and " It is quite a fine afternoon so Mr. Smith and I are actually going for our long deferred sketching. I believe Mr. Middlemiss is coming too to criticise, he is very good at that! [Calcutta 5 August 1902 Mss Eur C258/71 ] 26 Jan 1906 I have not heard a word from Mr Holland about my Fusinuliniae, indeed I have not heard from him at all for more than two months, but he must have said something of them to the other men for I had a card from Mr Middlemiss with "vivu Fusulinae" on it, vivu being Esperanto for Vivat. You have probably never seen an Esperanto Christmas card, so I will send it to you. The photo is one taken by Mr Middlemiss, of some cattle at a ford. (P.N.D. means Mr Datta of course.
La Touche shared an office with Middlemiss in 1905. Calcutta 7 July 1905.... Mr Middlemiss arrived today full of earthquake lore. I had an exhibition of the sketches I made in Burma this last season and they were much appreciated. I am dissappointed that Mr. M has nothing to show. He sketches very well but he has done nothing lately, lazy man! On 19th July he describes a game of billiards with Middlemiss "to decide which of us should have Mr Cotter with him next season, and which Mr Hallowes. Mr Cotter is the better man of the two and I won him, but I don't whether he will really come with me or not. Mr Hallowes it appears has made rather an ass of himself over his earthquake observations at Mussourie, and if he is that kind of man he would be of no use in Burma. 20 October 1905... I have asked Mr. Middlemiss to dine with me and meet [his brother Norman]. They will talk about Mr. M's musical notation invention, which he is still working at, though he has not been able to get any music publisher to take it up yet. His latest hobby is Esperanto, the new universal language, a most uncouth jargon it is to my mind. LaTouche interacted with Middlemiss in his last five years in India, his last entry being with reference to the Directorship: 6 Oct 1910 Mss Eur C258/83 Middlemiss is back from Kashmir having avoided the cholera. Middlemiss needs to go home next year to look after his family. Hayden who is ill, is to be the next Director. "It is rather hard on Mr Middlemiss, who is superceded, but I don't think he really cares for the job, and it is to a great extent his own fault as he has never shown the slightest interest in economic questions."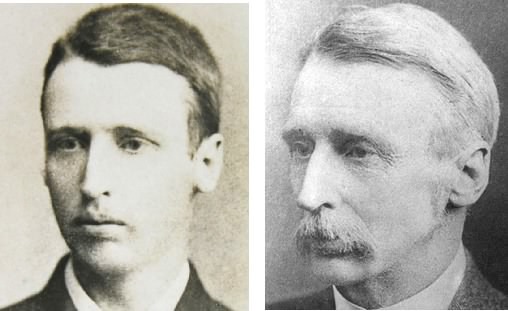 Obituary transcribed from 1939 Quart J. Geol. Soc. London, Obituary Notices, 94, Proc. cxxviii
Thomas Henry Digges La Touche, the oldest retired member of the Geological Survey of India, died at Cambridge after an operation, on March 30th, 1938, at the age of 82. He was the son of the Rev. James Digges La Touche, vicar of Stokesay, Shropshire, a well-known scientist, antiquary and musician. He was also a kinsman of the late Sir James Digges La Touche, Lieutenant-Governor of the United Provinces, and of other officers of the name also serving in India during his time.
After his education at Shrewsbury and St. John's College, Cambridge, La Touche was appointed to the Survey in 1881. For some years his early work was in connexion with coal inquiries in the Garo, Khasia, Jaintia, Aka, Singpho and Naga hills-an extensive belt of little-known country bordering the valley of the Brahmaputra in Assam. Other similar researches were carried out by him later in the Sangar Marg area of Jammu an. Kashmir State, at Bhaganwala in the Salt Range and in Bikaner and Daltonganj. In some instances, this work entailed boring operations which had to be done with such poor appliances as were then available. There were also a few searches for oil undertaken by him, interspersed with trips to the Kashmir sapphire mines, where La Touche did some experimental washing tests, and to other places in the Higher Himalaya.
At the opposite side of India, La Touche signalized the later years of his active service by publishing a full and important work (Memoirs, 1913, pt. 2) on the" Geology of the Northern Shan States". It is a comprehensive summary of his own investigations and those of other members of his department and of various palaeontological specialists, carried out in that most interesting region where the eastern edge of the ancient Gondwana continent includes a Silurian-to-Jurassic sequence of formations, comparable in its wealth of fossil faunas with the Himalayan sequence; and at the same time linking up the stratigraphy of the Indo-Burma region with that of central China.
Other minor geological topics discussed by La Touche were the origin of certain lakes, earthquakes, glaciers in Sikkim, and the mysterious sounds known as Barisal guns. He also wrote a history of the Geological Museum, Calcutta, and edited for the Asiatic Society of Bengal (of which he was president) the journals of Major James Rennell, the first Surveyor-General of India.
In 1891 La Touche married an Irish lady, Miss Handy, who survives him. Of their five children, one son was killed in the Great War and another joined the Burma Forest Service.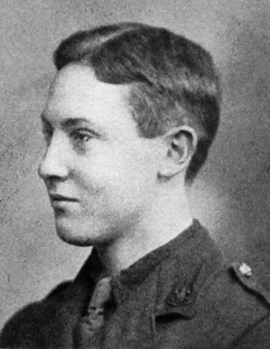 LaTouche's elder son whose childhood antics and early education 1895-1910 occupy many pages of the letters between Nancy and Tom, was killed in Turkey 5 years after LaTouche retired. "Captain Dennis Digges LaTouche, 8th Battalion, Welsh Regiment. Killed in action Sunday, 8th August 1915. Age 20. Son of Thomas Henry and Anna Frances Digges La Touche, of 230, Hills Rd., Cambridge. Educated at Baymount School, Co. Dublin, and Shrewsbury School. Elected to a senior scholarship at Corpus Christi College, Cambridge, 1913. (Commemorated on Helles Memorial, Turkey. Panel 140 to 144)."
La Touche occupied his spare time with some pleasing and useful hobbies. His musical bent and passion for mechanical gadgets expressed themselves in several ways, such as choral singing, tuning the church organ at Shillong, supervising the early simple seismoscopes set up in Assam and Calcutta, and the invention and building in the geological laboratory of a magnified variation of Walker's specific gravity balance for rapid work with large rock specimens. His skill as a photographer, also, must not be forgotten, and the sad disaster that befell a really marvellous set of extra-large panorama negatives of central Himalayan scenery, which had been secured by him at the cost of much labour and care. To La Touche's lasting grief, all these were smashed at one fell swoop whilst cleaning them, and before a single print had been taken!
La Touche was promoted to superintendent in 1894 and acted as director in 1906 and 1909. After his retirement in 1910 he compiled, at the request of the Council of the Geological Society, a List of the Geological Literature added to the Society's Library during the years 1915-19, and worked assiduously at his masterpiece: A Bibliography of Indian Geology and Physical Geography, with an Annotated Index of Minerals of Economic Value. This was followed by indexes to the Palaeontologia Indica and to the Records and Memoirs of the Geological Survey. As the last proofs of this exhaustive set of volumes were completed, La Touche passed away, leaving, nevertheless, with those colleagues and friends surviving him, many pleasant memories of a faithful worker and kindly gentleman.
Notes
After retiring from India in 1911 Tom (55) and Nancy (45) are recorded as C. of E. living at 11 Tivoli Terrace South, Kingston, Dublin, with Avice Gertrude (18), Denis (16), Edith Mary (13) and Lynette Nouvelle (7). Son James is not recorded in the 1911 census. By 1913 they had moved to Hills Road Cambridge. LaTouche's three daughters Edith (in his letters he referred to her as Edie), Avice, and finally Lynnette, all (sequentially) married Cmdr. David Wemyss (1900-1989), a much decorated WWII war hero. Edith died in 1930 aged 32. Avice was the eldest and Lynette 11 years younger.
LaTouche kept several books of photographs and albums of postcards whose whereabouts are currently unknown. Some dozens of his photographs survive as uncatalogued glass plates (the original catalogue appears to have been lost) in the photographic archives of the Geological Survey of India in Calcutta.