Expected to be the largest SSA meeting to-date, more than 850 earthquake scientists will gather in Seattle for the 2019 Annual Meeting.
Exhibitors:
Exhibit Hours and Information
Column Advertisements
Program Advertisements
Ad Specs & Application
Sponsorship Opportunities
(Select Image to Enlarge)

Founded in 2017, the company produces innovative modular sensors for scientific, industrial and civil applications based on the innovative UNISA Folded Pendulum technological platform.

Modular Sensors
Low frequency large band mechanical seismometers, velocimeters, accelerometers and tiltmeters for linear and angular monitoring of sites and structures for scientific, industrial and civil applications.

Monolithic mechanical oscillators for custom applications
Standard low frequency monolithic mechanical oscillator modules.
Custom low frequency monolithic mechanical oscillator modules for special applications.

Typical Applications
Sensors for large band real-time low frequency distributed monitoring for seismology, geophysics, cultural heritage buildings and monuments, civil infrastructures (buildings, bridges, dams), oil and gas exploration.
Sensors for large band local and distributed low frequency remote control and stabilization of scientific and civil infrastructures and for industrial control processes.

Booth 8
https://www.adv3s.com

True to our mission, AFTAC remains the world's most trusted leader providing technical nuclear information. We collect, produce, and advance capabilities to observe foreign nuclear tests for treaty monitoring; respond to global nuclear events; and prevent strategic surprise.

Of course, AFTAC continues to improve the U.S. Atomic Energy Detection System (USAEDS). As the nation's caretaker of USAEDS, AFTAC works closely with the Comprehensive Test Ban Treaty Organization in Vienna, Austria. Together, both parties are significantly improving the International Monitoring System (IMS). In fact, AFTAC now contributes six of its U.S.-based USAEDS seismic monitoring stations to the IMS.

AFTAC includes nine detachments, four operating locations and more than 60 unmanned equipment locations around the world supporting AFTAC's long range nuclear detection mission.

EarthScope was a program of the National Science Foundation that deployed thousands of seismic, GPS, and other geophysical instruments to study the structure and evolution of the North American continent and the processes that cause earthquakes and volcanic eruptions. It involved collaboration between scientists, educators, policy makers, and the public to learn about/utilize exciting scientific discoveries as they were being made.

Booth 9
www.earthscope.org


Güralp has been developing revolutionary force-feedback broadband seismic instrumentation for more than thirty years. Our sensors are used worldwide by academic, public, governmental and private organisations to understand, protect and explore our world.

All of our sensors employ the principle of negative force feedback loop to minimize the motion of the mass, and keep it centred within the seismometer casing. This technology vastly extends the bandwidth and linearity of the seismometer, recording seismic signals with long periods of over 300 seconds to over 100 Hz.

Güralp broadband sensors record seismic events and seismic signals of all kinds, from teleseismic events occurring on the other side of the planet, to microseismic events induced by unconventional hydrocarbon extraction (e.g. hydraulic fracturing). Our high fidelity digitisers ensure that these signals are recorded with the highest resolution and accurate timing.

Our range of products and services meet the most complex of requirements for deployment in the most challenging circumstances. We are always developing new ways of engineering this tried and trusted precision technology into smaller and more advanced casings. You will find Güralp instruments gathering seismic data in the harshest of environments, from the Antarctic ice sheet; to boreholes 100s of metres deep; to the world's most active volcanoes and deepest ocean trenches.

Booth 2
www.guralp.com


NSF's Seismological Facility for the Advancement of Geoscience (SAGE), operated by the 

IRIS

 Consortium, is a world leader in advancing discovery, research, and education in seismology to understand our planet and to benefit society. The Consortium, its members, and affiliates facilitate investigations of seismic sources and Earth properties; promote exchange of seismic and geophysical data through pursuing policies of free and unrestricted data access; and strive to advance seismological research and education, geoscience workforce diversity, and Earth science literacy.

Booth 6
www.iris.edu


iXblue is a global leader in the design and manufacturing of innovative solutions devoted to navigation, positioning and underwater imaging, shipbuilding, as well as photonics. Using its unique in-house technology, the company offers turnkey solutions to its customers to carry out their operations with optimum efficiency and reliability.
Through its blueSeis product line, iXblue specifically offers unique and reliable fiber-optic solutions that allows comprehensive exploration of rotational ground motions by the measurement of both the translations and rotations of the ground's movement in the three directions of space.
Employing a workforce of 600 people worldwide, iXblue conducts its business with over 40 countries both on the civil and defense markets.
Booth 3
www.ixblue.com


Kinemetrics, Inc. is a Pasadena, California, science application corporation specialized in the design and manufacturing of earthquake, volcano and explosion monitoring instrumentation, as well as in related systems integration, installation, training, and operation services.

Booth 7
www.kinemetrics.com



For over 30 years, Nanometrics has provided award-winning monitoring solutions and equipment for studying man-made and natural seismicity. Nanometrics delivers world-class network design, installation and training services throughout the globe in a safety conscious environment that is utilized by the world's leading scientific institutions, universities and major corporations.

Booth 12
www.nanometrics.ca


Raspberry Shake specializes in creating affordable professional-grade seismographs and infrasound solutions. Their devices are rapidly becoming adopted by geophysical institutes from around the globe looking to densify their networks, flushing out their existing broadband backbone networks. Recorded data is highly compatible with seismological standards and EEW-ready making it easy to incorporate into SeisComP, Earthworm, SEISAN and other applications.

For automated data processing and interpretation, Gempa are market leaders. Specializing in software and management tools, based on SeisComP3, they make it easy to monitor and analyze data from multiple hazard types including earthquakes, volcanoes and tsunamis. Solutions also include structural health monitoring, decision support and custom modules that can be developed specific to your requirements.

Raspberry Shake and Gempa work closely together to provide the best tools and services possible to record and analyze seismological data, backed by a team of experts available for training and support.

Find out more at www.RaspberryShake.org and www.Gempa.de today!

Booth 11
raspberryshake.org
gempa.de

For over 40 years REF TEK®, a Trimble Brand, has thoughtfully designed and manufactured a wide range of robust, reliable hardware and software solutions for scientists from the North Pole to the South Pole, and everywhere in between. All products in our portfolio are renowned for outstanding accuracy, and our team are knowledgeable about your scientific and academic data requirements. Anytime during your installation process, you can turn to our trustworthy service and support team for backup and advice.

Booth 1
https://www.reftek.com/

The Seismology Research Centre is an earthquake observatory that started developing earthquake processing software and digital recorders in the late 1970's. The SRC monitors the southeast quadrant of Australia and locates almost 1000 earthquakes each year. The 7th generation "Gecko" seismograph is their most user friendly and robust professional grade recorder yet. Some Gecko variants now include internal triaxial velocity and acceleration sensors for simple deployment with minimal cabling, and easy data telemetry via cellular or other communications links. The latest Gecko model is an affordable short period seismograph called the "Tremor".

Anyone can use the SRC's "Waves" MiniSEED data viewing software, which is free to download from the src.com.au for Windows, Mac & Linux. Their Quick Quake app for iPhone and iPad is a great teaching tool to show how earthquakes are located, and can be used by duty seismologists to verify automatic earthquake locations in under a minute.

Booth 10
www.src.com.au

Silicon Audio integrated the mechanics of conventional geophones with innovative optical technologies to create a scientific-grade seismic sensor with unparalleled characteristics and performance for resource exploration and scientific discovery. The sensor delivers superior signal-to-noise ratio, high dynamic range and broadband response in a rugged, easy to deploy form factor.

Booth 5
http://siaudio.com

UNAVCO manages the NSF GAGE facility supporting geoscience research and education using geodesy. UNAVCO operates and supports geodetic networks, geophysical and meteorological instruments, an open data archive, and software tools for data access and processing, and provides technical support, geophysical training, and education, outreach, and geoscience opportunities for students.

Booth 14
https://www.unavco.org/
EXHIBIT HOURS
Exhibitor Setup
Tuesday, April 23 from 12:00 PM to 4:00 PM
Exhibit Hours
Tuesday, April 23 from 4:30 PM to 6:00 PM
Wednesday, April 24 from 7:30 AM to 6:00 PM
Thursday, April 25 from 7:30 AM to 6:00 PM
Friday, April 26 from 7:30 AM to 5:00 PM
Exhibitor Breakdown
Friday, April 26 after 5:00 PM
The exhibit floor for the 2019 SSA Annual Meeting has sold out. To be added to a list of potential exhibitors and receive up-to-date exhibitor information via email for the 2020 SSA Annual Meeting in Albuquerque, please contact us at exhibits@seismosoc.org.
Our 8′ x 10′ (8′ deep by 10′ wide) booths include one six-foot table, two chairs, a wastebasket and a name sign. Exhibit registration includes continental breakfast, lunches and access to general receptions for two people. All exhibitors have access to free Wi-Fi. Exhibitors do not have access to the technical sessions. Access may be purchased for an additional fee of $175 per person. For more information, please contact exhibits@seismosoc.org.
---
SPECIAL ADVERTISING ON THE EXHIBIT FLOOR
Boost your presence and support student attendees by placing your message and company logo on a column at the center of the exhibit floor.  At 120″ x 48″, your message will be seen by everyone. Only four columns are available. All proceeds help provide discounted registrations rates for students.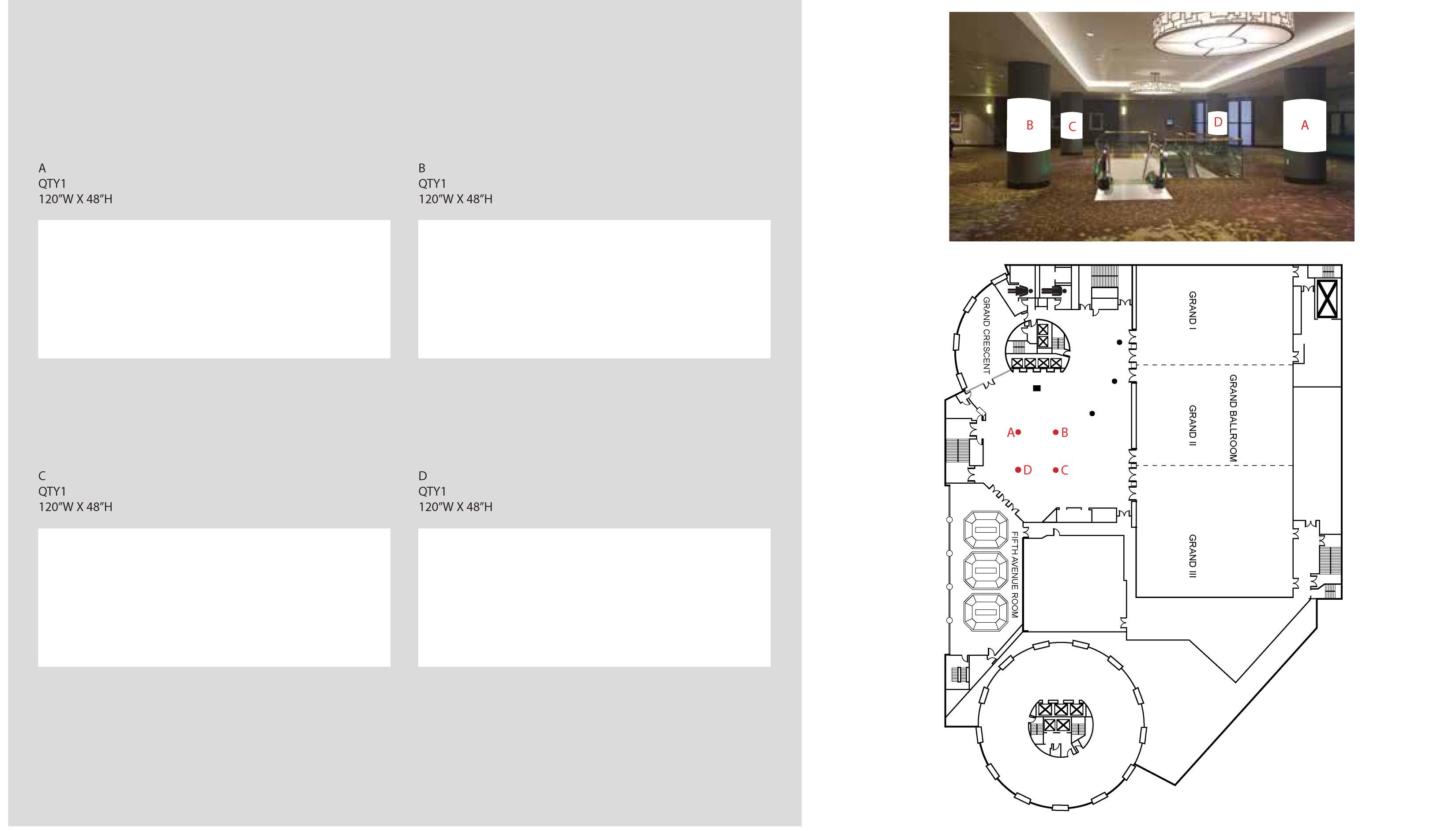 (Select Image to Enlarge)
Column A
$2500
Column B 

SOLD

$2500
Column C
$2500
Column D 

SOLD

$2500
PROGRAM ADVERTISING
Make a lasting impression: advertise in our full-color Annual Meeting Program! Considered a crucial tool for all attendees of the meeting, your brand will receive exposure each time they turn a page. Available in full-color in one-page and half-page sizes.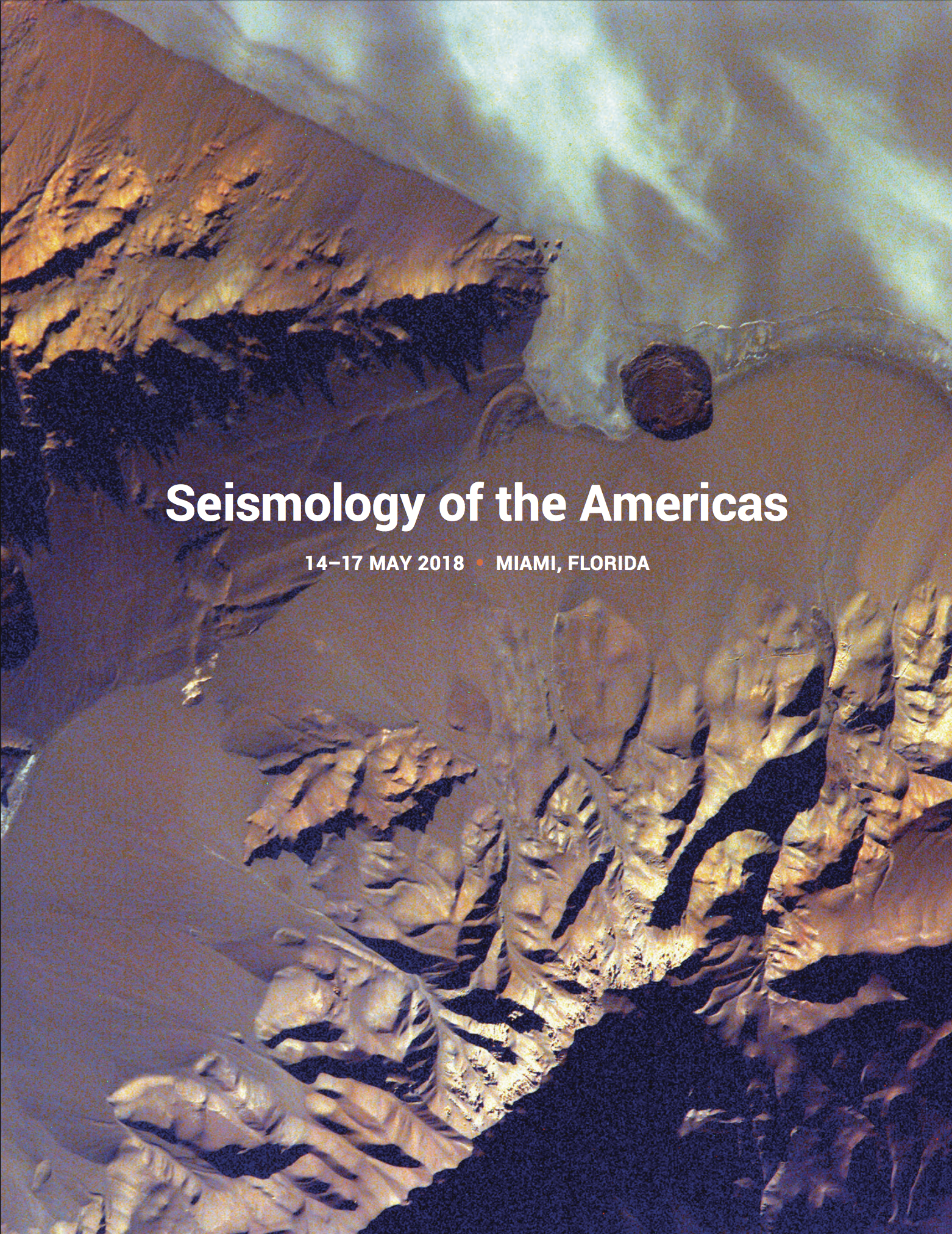 (Select Image to View a Flipbook of the 2018 Program)
Full-Color, Full-Page Advertisement
Inside Front Cover Placement

SOLD

$2000
Inside Back Cover Placement 

SOLD

$2000
Within First Five Pages (Available: 1)
$1700
No Specific Placement
$1450
Full-Color, Half-Page Advertisement
| | |
| --- | --- |
| No Specific Placement | $850 |
SPECS
To view specs for the 2019 Program or the Column Wraps please visit our specs page.
READY TO ADVERTISE?
Complete an application and send to exhibits@seismosoc.org.
---
Sponsor the 2019 Annual Meeting
The SSA's Annual Meeting meeting brings together hundreds of earthquake scientists each year. This flagship SSA activity is made possible by our sponsors, and we look forward to working together with you each year.
Interested in sponsoring the SSA Annual Meeting? Please email Nan Broadbent at nbroadbent@seismosoc.org.