2014 Annual Meeting
Hotel & Travel Info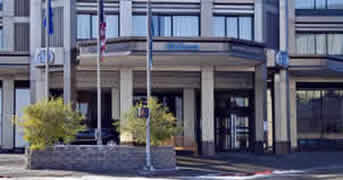 In Anchorage, the conference hotel will be the Hilton Anchorage. Make your reservation now to assure that you will be close to all that is going on at the SSA meeting. Use the links below to make your reservations to ensure that you get the SSA rate.
BOOK A ROOM:  Standard Room Rate $119/night. The group room rate is available until April 7, 2014 or until the block is sold out, whichever comes first.
BOOK A ROOM:  US Government Room Rate $99/night. 15% of our room block is reserved for US government employees booking a room for one person. A qualifying form of identification will be required at check in.
Reasons to Stay at the Hilton
Closest hotel to the Egan Center where the conference meetings will be held. Also, the Joyner Lecture and the Town Hall meeting will be held at the Hilton.
Alow guest room rate has been negotiated for our attendees.
Complimentary Internet in guest rooms for all reservations made for SSA meeting attendees.
Networking opportunities - Most attendees will be staying at the Hilton.
Support for you - We're your advocate before, during and after your stay.
Support for SSA - The hotel gives us a significant discount on our meeting rooms and food if we book a certain number of guest rooms. We base the price of meeting registration on making that number. If we don't meet the projection, SSA loses money on the meeting and our ability to serve our members is reduced. 
Use the links above to make your reservation online or call 907-272-7411. If you call, be sure to mention you are with the Seismological Society of America.
Alternate Hotel Option
If you are unable to reserve a room at the Hilton, a hotel alternative is to book a room at the Super 8 Anchorage.
The rate is $79/night, and the hotel is located 3 miles from the Egan Convention Center. The Super 8 will provide shuttle service from the hotel to the convention center each morning and return service each evening.
To book a room at the Super 8, please call 907-276-8884 or send an e-mail to AnchorageS8@pendevserv.com. When making your reservation, be sure to say that you are an attendee of the Seismological Society of America (SSA) Annual Meeting in Anchorage.
Fun & Easy Things to do in Anchorage
The Anchorage Visitors site has a wealth of useful information for travelers. We've included some things especially suited to April. So, if you have a day or an afternoon free, you might want to spend some time looking around Anchorage. 
Anchorage City Trolley Tours roll on a narrated 1-hour loop from downtown to Ship Creek, through the Turnagain neighborhood to Earthquake Park, to the world's busiest floatplane base at Lake Hood. Board the red trolley downtown at Fourth and F Street.
The Anchorage Museum houses a trove of Alaska art, history, science and Alaska Native artifacts in the Smithsonian Arctic Studies Center, Imaginarium Discovery Center and Thomas Planetarium. The Alaska Gallery's timeline of Alaska history includes a twisted girder from the '64 quake and a cross-section of the Trans-Alaska pipeline.

Tony Knowles Coastal Trail

This scenic 11-mile, multi-use trail begins in downtown Anchorage on Second Avenue and passes several major points of interest, including Earthquake Park, before terminating at Kincaid Park Outdoor Center. The trail affords incredible views of Cook Inlet and six different mountain ranges. Bicycle rentals are available at several locations in downtown Anchorage.
Located in Ship Creek Center, the 4th Avenue Market Place features Alaska's largest display about the 1964 Earthquake, Iditarod Trail Sled Dog Race™ murals, Tlingit bear totem pole and a permanent Fred Machetanz art exhibit. 

Westchester Lagoon Overlook

Westchester Lagoon, near downtown Anchorage, offers excellent bird watching as migrating shorebirds, waterfowl, and terrestrial species seek out the marshy ponds, coastal waters, and streams. Views of the Chugach Mountains can be spectacular, particularly at sunset.
The Alaska Zoo is home to the largest variety of Alaska wildlife in the state including polar and brown bears, moose, wolves, snow leopards, caribou, musk ox, arctic fox and more. The Zoo is a private nonprofit providing a home for more than 130 orphaned, injured and endangered animals just 15 minutes south of downtown Anchorage.

Chugach State Park

The half-million-acre park holds some of Alaska's most accessible camping, hiking and climbing, ATVing, boating, biking, horseback riding, fishing and rafting. Eklutna Lake, the Eagle River Nature Center, Glen Alps Trailhead, Bird Creek and the town of Girdwood all lead into the heart of Chugach State Park.
Experience the magnificence of Mount McKinley, North America's tallest peak (20,320 feet), on a flightseeing tour. Scenic flights depart from Anchorage or Talkeetna, a two-hour drive north.

Segway Tours

Wheel around downtown Anchorage on a self-balancing electric-powered transporter, or Segway. Bear Square offers tours with stops at several historic and scenic locations with tips on the best places for shopping, dining, and entertainment. 
Grab the free brown trolley at Fourth and F Street for a short narrated ride to The Ulu Factory at Ship Creek. Watch craftsmen fashion the sharp-bladed ulu knives and check the historical ulu display that dates back thousands of years. 
South of Anchorage
Potter Marsh Bird Watching

Potter Marsh, part of the Anchorage Coastal Wildlife Refuge, is just 12 miles south of downtown. The 2,300-acre wetland serves as home or migratory stopover to more than 220 species of birds, including bald eagles, trumpeter swans, Canada geese and a broad variety of ducks. 

Turnagain Arm 

A drive south of downtown on the Seward Highway, a National Scenic Byway, is not to be missed. Look for beluga whales, Dall sheep and the Turnagain Arm bore tide – a true tidal surge that occurs when a rising tide enters a narrow and shallow basin. 

Alyeska Resort Tram Ride and Dinner, Girdwood

Take a journey on the 60-passenger Alyeska Aerial Tram to 2,300 feet above sea level for breathtaking glacier, mountain and water views. Dine at the mountaintop AAA Four Diamond Award winner Seven Glaciers Restaurant, offering dinner daily in the summer.
The Alaska Wildlife Conservation Center is a nonprofit organization that takes in orphaned and injured animals from the wild. Drive the 1.5 mile loop, or spend your time walking through the 200 acres for an up-close look at black and brown bears, moose, wood bison, elk, lynx, caribou and musk ox.
The famous Kenai River is just a couple hours drive south of Anchorage. Halibut and other saltwater fishing are within a half-day's drive. Prince William Sound (Whittier) is just over an hour away; Resurrection Bay (Seward) is 2.5 hours; and Kachemak Bay (Homer) is 5 hours south. 
Located out of Seward, 127 miles south of Anchorage, Kenai Fjords National Park is weighted by wildlife. Glaciers are prevalent too, but it's astounding how many animals can be encountered on one cruise, including orca, gray and humpback whales, Stellar sea lions, sea otters, Dall porpoises surfing the bow wave, or puffins and a multitude of other sea birds.
Alaska's premier public aquarium in Seward. On the shores of Resurrection Bay, visitors to this world-class cold water marine research facility have close encounters with puffins, octopus, sea lions, seals and more. 
North of Anchorage
Hatcher Pass/Independence Mine

Drive north of Palmer to Hatcher Pass for breathtaking views of the Talkeetna Mountains, gold rush history and hiking trails. Independence Mine State Historical Park (60 miles from Anchorage) features the fascinating remains of a gold mine abandoned in 1955.