SSA 2014 Annual Meeting
Information for Presenters
Oral Presenter Information
Talk Time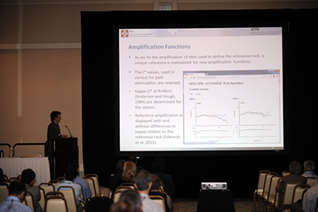 Please remember that you are allocated 15 minutes total. This includes time for you to be introduced, give your presentation, answer any questions, and do any wrap-up. Therefore, plan your actual presentation for no more than 12 minutes. We have a tight schedule and it is important that each presenter stay within the time limit.
Location of Presentations
Oral presentations will be in Rooms 1, 2, 3, 4, and 7 on the Lower Level (Summit Hall) in the Egan Convention Center. For the exact time and room of any presentation, please check the schedule.
Loading Your Slides
There is a big difference this year! Instead of loading your presentation in the session rooms, we will be using a Speaker Ready Room. You must upload your presentation at least 1 hour before the start of your session. You can do this using the web upload portal (http://ssauploads.com) until 7 pm April 29 or in the Speaker Ready Room in Anchorage (Room 6 on the same level as the sessions). The Speaker Ready room will be available the following hours:
| | |
| --- | --- |
| Tue, Apr 29 | 3:00 PM – 7:00 PM |
| Wed, Apr 30 | 7:30 AM – 6:00 PM |
| Thu, May 1 | 7:30 AM – 6:00 PM |
| Fri, May 2 | 7:30 AM – 4:30 PM |
Equipment
You will not be able to use your own laptop for your presentation. In the session room, you will have access to a confidence monitor, an LCD projector, wireless remote, and a laser pointer. The Speaker Ready room will have an exact copy of the tech session set up where you can practice your presentation so you will not waste your talk time adjusting to the AV system.
Slide Format
Please bring your presentation to the meeting on a flash drive to load in the Speaker Ready Room. We can accomodate presentations made on a Mac, PC or Linux machine. There are no restrictions as to the format of your slides. We can accomodate PowerPoint, Acrobat, Keynote, OpenOffice, LibreOffice, Prezi, Google Docs and more. Please bring all media files with you when you upload your talk, even if you've embedded them in your talk. There are no limits on file sizes, either for the presentation or media files.
If you have questions, go to http://ssauploads.com or e-mail 2014meeting@seismosoc.org.
Poster Information
Poster Presenter Instructions
If you need to print your poster in Anchorage and pick it up there, AT Publishing & Printing came highly recommended by the USGS graphics person: http://www.atpublishing.com.
Also, PIP printing came highly recommended by the Anchorage Visitor's Bureau: http://www.pip.com/centers/anchorageak500/.
Poster Size
The poster board usable space is 3 ft. 9 in. high x 7 ft. 7 in. wide (1.1 m. x 2.3 m.). We will provide push pins. For more information, email 2014meeting@seismosoc.org.
Location of Posters
Your poster board will be in the Cook and Arteaga Rooms (Explorer's Hall) on the street level. To determine where in the exhibit area your poster is to be hung, check the schedule. The sequence number in the program corresponds to a poster board number in the hall.
Poster Area Schedule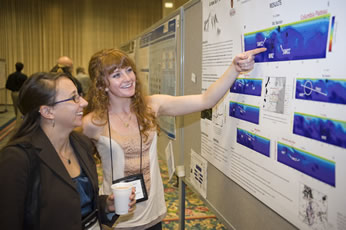 The poster area will open at 7:00 AM, ninety minutes before the sessions begin each day. Breakfast will be served in the same room starting at 7:30 each day. We have always had morning and afternoon breaks in the poster/exhibit area. Last year we expanded those breaks to 1 hour each (instead of 30 minutes) to give everyone more time to view posters It was so well received that we are doing it again this year.
Posters hang for the entire day. Please hang your poster sometime before 8:30 AM the day of your session and take it down sometime between 5 and 6 PM.
When you get to the meeting, you will be asked to post a notice at your poster as to what specific time(s) you will be at the poster site to discuss it with others.