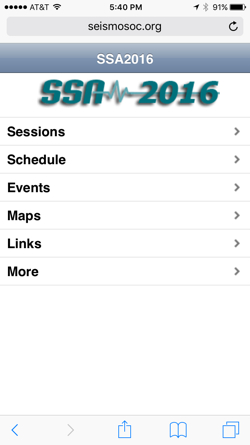 SSA 2016 Mobile Web App
(for Smart Phones and Tablets)
Download this app to get:
Complete Program Schedule
Full Text of Abstracts
Special Event Details
Reno Maps
And more
Note: If you're reading this on a desktop or laptop computer and would like to try out the app you can click here to open it in a phone-sized popup window in your web browser.
Instructions
These instructions are specific to Apple iOS devices but the process will be fairly similar on Android and other mobile devices (app has only been tested on iOS).
Visit this page from your mobile device, the click the "Download App" button above. Wait for the app to download completely before continuing.


Tap the "Share" button (icon at the bottom of the screen that looks like this ).


Tap "Add to Home Screen"
Unfortunately we are unable to provide technical support for this mobile web application during the meeting, but we would like to hear any feedback you may wish to offer so that we may improve the application for future meetings. Please email any questions, comments, bug reports or etc. to webmaster@seismosoc.org.