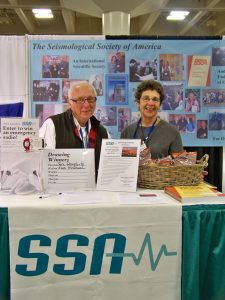 30 November 2016 – SSA members may know Wilbur "Bill" Rinehart from an Annual Meeting, or the SSA booth at the American Geophysical Union meetings, or maybe from one of his dodecahedral world seismicity maps that graced museums, labs and classrooms for many years. Rinehart, a member since 1961, has been the unofficial historian of the Society for many decades.
Rinehart generously funded the start of the SSA Student Travel Fund, after the Society had celebrated its centennial year in 2006, and he continues to lead by example today.
For the Annual Meeting in 2006, "Bill did a huge amount of historical research for us, including creating an amazing poster with photos of nearly all the SSA presidents," said Susan Newman, the former executive director of SSA. 
During the anniversary year Rinehart also worked closely with USGS seismologist Susan Hough, who then served as editor-in-chief of Seismological Research Letters. 
"It was a great pleasure to work with Bill on a number of projects associated with the 2006 centennial anniversary of the Society and the 1906 earthquake," Hough said. "I especially valued his contributions to a series of short "Unsung Heroine" articles that were published in SRL through 2006, and his 2006 article on Maxwell Allen chronicles an important early chapter of the SSA story."
The pages of SRL that year contained a number of other historical gems—including the original minutes from several of the first SSA meetings—which Rinehart had uncovered in the Society's archives. For this and his other extraordinary efforts to document and preserve SSA history, Rinehart received the Distinguished Service to SSA Award in 2006.
Rinehart volunteered all of his services, but Newman said that his efforts on behalf of the Society went "so far above and beyond" that the SSA Board voted to award him a small stipend for his work on the centennial celebration.
"He wasn't interested in receiving money for his work, so he turned right around and donated the money to the SSA Student Travel Fund," Newman recalled. "We had some money for students to attend the annual meeting at that point, but it was Bill's donation that really got the fund off the ground."
Rinehart continued to offer his research and database skills to SSA, developing the programming to create paper indices for the Bulletin of the Seismological Society of America before the journal went online, and compiled bibliographies published in virtual issues of the journal to commemorate key anniversaries of the Hayward Fault and the 1964 Alaska earthquake, among other projects.

While Rinehart could not attend the 2016 AGU meeting, where he has been a fixture behind the SSA booth, look for him in future years, continuing to make a difference for our community. 
The SSA Student Travel Fund was built from the generosity of one of our most generous members. Join Bill and members like him, and make a tax-deductible donation to the Society this year.