23 February 2017 – The complete march/April 2017 issue of Seismological Research Letters, Volume 88, Number 2A, is now available online at the GeoScienceWorld website. This issue includes: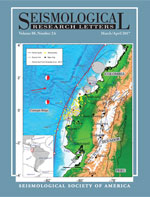 Click to Enlarge Cover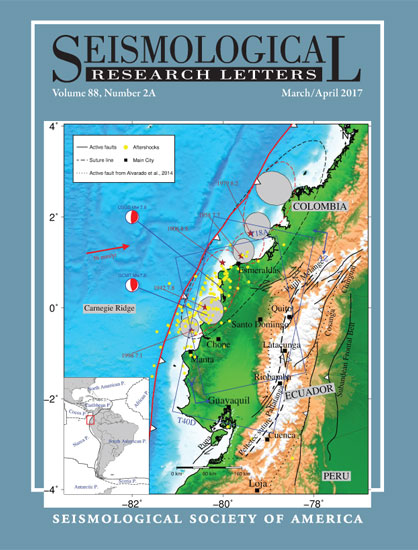 On the Cover…
The Mw 7.8 Ecuador earthquake of 16 April 2016 was the sixth earthquake larger than Mw 7 to rupture the subduction megathrust between the Nazca and South American plates since 1906. He et al., (this issue) used InSAR images to determine coseismic surface displacements associated with this earthquake. The 2016 earthquake is coincident with the location of the 1942 Mw 7.8 earthquake, and both likely ruptured an asperity that also failed in the 1906 Mw 8.8 earthquake. Shown here is the location and local detail of the megathrust. For this same 2016 event, Beauval et al. (this issue) compared observed ground-motion attenuation data with four different ground-motion prediction equations, evaluating the interface models used for seismic-hazard studies.
[ Close ]
An Opinion by Harley Benz, Building a National Seismic Monitoring Center: NEIC from 2000 to the Present
Two EduQuakes columns:
The SSA 2017 Annual Meeting Announcement with details of the meeting to be held in Denver, Colorado in April, a DC Currents column with information on the 2017 Geosciences Congressional Visits Day (Geo-CVD) coming up this Fall, ten electronic supplements, and much more.
SSA members should log in to the members area and follow the link from there to SRL Online at GeoScienceWorld to access full text or PDFs of all articles from the issue (log in with your SSA username and password required). Institutional subscribers can access the issue here. The print edition of this issue is scheduled to mail on 5 January.
Not a member? Join now to get immediate access.