26 April 2017 – The complete May/June 2017 issue of Seismological Research Letters, Volume 88, Number 3, is now available online at the GeoScienceWorld website. This issue includes: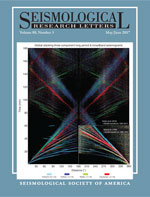 Click to Enlarge Cover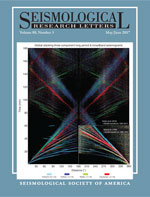 On the Cover…
Since 2010, the Incorporated Research Institutions for Seismology (IRIS) Data Management Center (DMC) has expanded its services to the seismology community beyond data archiving and distribution by offering higher order data products derived from its vast repository of raw waveform data. The 31 data products now available are described in Hutko et al. (this issue) and include Global Stacks, the stacking STA/LTA functions of waveform data available from IRIS from more than 2500 shallow earthquakes from 1995–2013 using different components of data in different frequency bands.
[ Close ]
SSA members should log in to the members area and follow the link from there to SRL Online at GeoScienceWorld to access full text or PDFs of all articles from the issue (log in with your SSA username and password required). Institutional subscribers can access the issue here. The print edition of this issue is scheduled to mail on 8 May.
Not a member? Join now to get immediate access.