27 June 2017 – The complete July/August 2017 issue of Seismological Research Letters, Volume 88, Number 4, is now available online at the GeoScienceWorld website. This issue includes a Focus Section on the 3 September 2016 Pawnee, Oklahoma, Earthquake featuring 10 original research papers, and: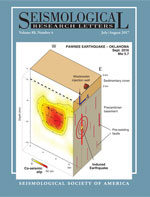 Click to Enlarge Cover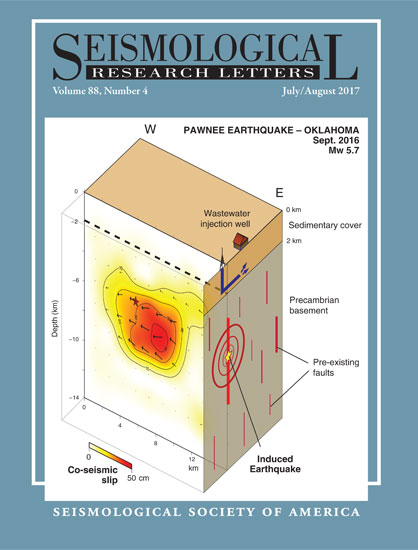 On the Cover…
The 3 September 2016 Mw 5.8 Pawnee earthquake, widely felt throughout Oklahoma and neighboring states, may be the largest injection-induced earthquake recorded to date. The cover figure depicts the slip distribution of the earthquake as derived from Grandin et al. (this issue), one of 10 original research papers presented here in an SRL focus section about the earthquake. The focus section provides a complete view of the stress evolution leading to the mainshock inferred from foreshock activities and coupled poro-elastic modeling; coseismic stress changes and deformations from both seismological and geodetic observations; dynamic hydrological responses at far-field; and liquefaction observations from geoelectrical and surface mapping.
[ Close ]
An Opinion, NEHRP Turns 40, by W. Leith
Three Electronic Seismologist columns: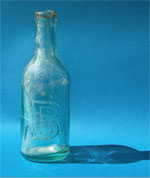 Click to Enlarge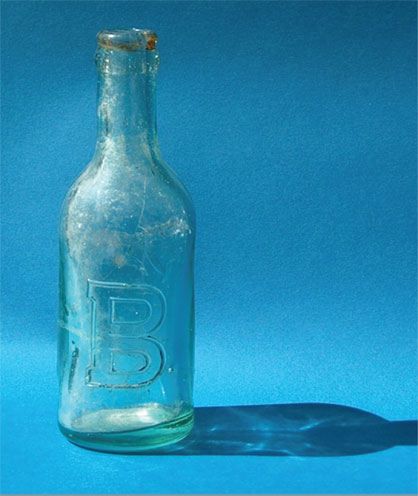 On the Back Cover…
The bottle shown here emerged shortly after the 18 October 1989 magnitude 7.1 Loma Prieta earthquake as earthwork was being done to repair liquefaction damage in San Francisco's Marina District. Research reported by Hinzen et al. (this issue) indicates that it is an 8-ounce soda bottle from the Charles Belding Company, and several signs indicate that the bottle pre-dates the 1906 San Francisco earthquake. The location where the bottle was found suggests that it was among rubble from the 1906 earthquake used as artificial fill in the area before the 1914 Panama-Pacific International Exposition. This bottle probably survived two earthquakes 83 years apart.
[ Close ]
Three Historical Seismologist columns:
A Data Mine, Southern Alaska Lithosphere and Mantle Observation Network (SALMON): A Seismic Experiment Covering the Active Arc by Road, Boat, Plane, and Helicopter, by Carl Tape et al.,
Articles, News and Notes, the Meeting Calendar, fourteen electronic supplements, and more.
SSA members should log in to the members area and follow the link from there to SRL Online at GeoScienceWorld to access full text or PDFs of all articles from the issue (log in with your SSA username and password required). Institutional subscribers can access the issue here. The print edition of this issue is scheduled to mail on 3 July.
Not a member? Join now to get immediate access.