SSA encourages members of the press to attend the Annual Meeting, preview journal articles and interview its members. Members of the press should contact SSA Press Liaison Becky Ham via email at press@seismosoc.org.
SSA Introduces New Journal Features and Benefits for SSA Members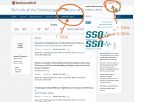 19 September 2017 - The premier seismology journals BSSA and SRL will get a new look and a host of reader-friendly features, as the journals make the transition to the Silverchair Information Systems online hosting platform through GeoScienceWorld, a consortium of society publishers of research and communications in the earth sciences.