19 April 2017 -DENVER — Speaking at the 2017 SSA Annual Meeting, Colorado Gov. John Hickenlooper said science is "the best tool we have for predicting our future challenges and what our best responses are."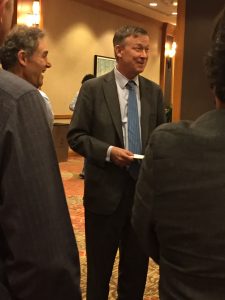 "Policymaking needs to be based on the facts," said Hickenlooper, the keynote speaker for the Society's annual Public Policy Luncheon. "It has to be based on a strong foundation of science. There are always going to be arguments, there are strong self-interests in these issues. But you have to recognize … that facts have weight."
Hickenlooper, the first geologist to become governor in the United States, talked about how he has brought his own training in science to draft new state policies covering methane emissions and wastewater disposal wells from oil and gas production.
He called hydraulic fracturing and directional drilling "some of the most significant developments of the last 50 years" that have made the United States a net exporter of energy, but he cautioned that there is a "level of responsibility that comes with that success."
He urged the SSA audience to advocate for increases in federal research funding, noting that this investment can have a significant economic impact at the state and local level. At the National Renewable Energy Laboratory in Golden, Colorado, Hickenlooper said, "we know for every dollar invested there we get five dollars' additional research done through their partnerships with the private sector."
Hickenlooper said the nationwide Marches for Science planned for April 22 are a "constructive" way to support science and fact-based decision-making, but he also urged researchers to make an effort to have more one-on-one conversations about science.
"In a time like this when there is a lot of turbulence in Washington, this is often times when your actions can have real impact," he said.
Hickenlooper also talked about how he turned to another one of his careers — as a brewer — after an economic downturn in 1986. "I ended up as a geologist without a job, and I started making beer," he joked, "If that doesn't prove I'm a real geologist, I don't know what does."