The world's earthquake science community advances by interacting with scientists employed by the U.S.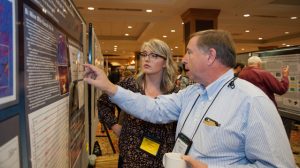 Geological Survey (USGS), according to a recent survey conducted by SSA. And USGS needs that in-person give-and-take, too, as it seeks to accomplish its mission of serving "the Nation by providing reliable scientific information to describe and understand the Earth; minimize loss of life and property from natural disasters; manage water, biological, energy, and mineral resources; and enhance and protect our quality of life."
Recently SSA surveyed its membership, seeking to understand the impact of interacting with government-employed scientists at scientific conferences, like the SSA Annual Meeting. The survey was in response to a recent change in policy at the U.S. Geological Survey, which now restricts attendance by its scientists at "large" scientific conferences, which it defines as any conference for which the government spends more than $100,000 on travel, accommodation and registration fees.
As reflected in the responses, SSA hosts the world's primary technical conference on seismology, which is a necessary part of the collaborative process that leads both USGS and SSA to meet its shared vision and purpose.
We thank everyone who answered our question: Why is it important to have government-employed scientists participate in scientific conferences?
Here is a broad sampling of the answers. In order to safeguard the individual scientists, we have elected to make all answers anonymous.
SSA thanks all those who took the time to complete the survey.
We received 65 responses.  Summary answers:
Develop collaborations (21)
Allows implementation, refinement, public sharing of national seismic hazards findings (13)
For early-career scientists, technical conferences offer one of the only ways to connect with government scientists and learn about government jobs, be mentored by government scientists (9)
Hear from government employees who are on the forefront of research, developing and adapting techniques (7)
Government employees have an obligation to share findings and learn from others, it's not a vacation (5)
In-person conferences facilitate exchanges of public and private sector scientists, who do complementary work or rely on each other's findings (5)
Provides closer contact between European and American scientists (2)
In your own words (a sampling):
"In addition, I am now working on a seismic research project related to earthquake site response in the central and eastern U.S. that may feed into improving the USGS National Seismic Hazard Maps used for building infrastructure.  That opportunity would not have become available without the opportunity to run into the USGS seismologist I am working with while I was at SSA a few years ago.  These collaborations have been vital towards advancing my career and towards moving society closer to becoming more resilient from earthquakes."
"It is indispensable to have significant presence of the researchers who are the government employees in the conferences as much as they can because it is very important to have exposure of the research done in the government institutions. This is not a benefit of the employees but their obligation."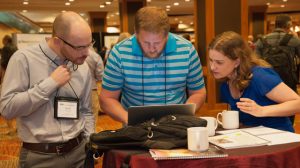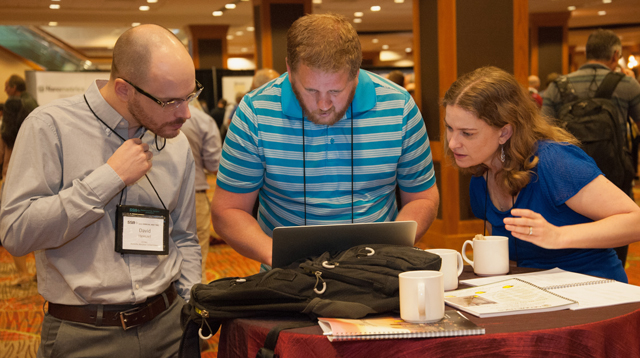 "Without USGS scientists attending meetings such as the SSA Annual Meeting, they will be forced to work in their own isolated silos, which would be a tremendous waste not only of their talents, but also from a practical standpoint, their salaries! To get the most from these talented individuals, they need to interact with their colleagues from all over the country, and the SSA Annual meeting is an ideal opportunity to do so."
"I have learned of USGS priorities / needs (e.g., for national seismic hazard maps) through conference discussions, which has impacted the research we conduct; and (2) I have answered questions from USGS staff on how to implement our results / models for use in their work.  These interactions have directly impacted the map products."
Re national hazards: "Presentations on USGS projects at SSA meetings help provide a balanced perspective on seismic hazard issues that are a concern to businesses, institutions, government, and the public.  It also provides a feedback mechanism to the USGS at less cost to them than organizing a workshop or meeting on a specific topic."
"I have received significant and critical mentoring from US government employed scientists while at SSA…"
"During my long career in private industry much of my entire focus was on seismic hazard and the codification of seismic design parameters in the design of very large project all around the globe. This work depended, and continues to depend, on fundamental research in strong ground motion attenuation and its incorporation into seismic hazard maps. All of this work depended critically on the work of, and interaction with, scientists of the USGS…One can read papers by, and exchange letters or emails with, these world class scientists. But the chance to talk with them face to face at scientific meetings is priceless.  And the more meetings they can attend the better the chances of this."
"Our company builds risk models. These risk models help protect millions of people around the globe by ensuring that (re)insurance companies are prepared to be able to pay out in case of a disaster so that people are not left high-and-dry (or relying solely on federal funds!) and can start to rebuild their lives … We rely on the scientific community and scientific conferences/workshops to ensure that we are incorporating the latest science into our models. It is absolutely critical that we are able to interact with US government-employed scientists as they are often on the cutting edge of hazard work. This is often achieved through interactions at scientific conferences where they present their latest works and we are able to have more in-depth discussions."
"The National Seismic Hazard Model is developed as a collaborative product between the US Geological Survey and the rest of the research and engineering communities including both universities and private engineering firms. Their goal is to use the best available science. A large fraction of the USGS Earthquake program scientists are involved, either directly or indirectly, in the development of these maps. One of the key places where they can learn about the best available science is scientific meetings. The exchange at meetings goes both ways. The USGS scientists learn what others are doing and ask critical questions both so that they can better understand the new results, and can help the other researchers to improve their research. In the other direction, the USGS scientists inform the rest of the community about what the most important uncertainties are with their maps. These discussions take place in formal talks, and in countless informal discussions over meals or at poster sessions."
Want to contribute your voice?  Please complete the survey.