| | |
| --- | --- |
| | Publications: SRL: 75:6 SSA Turns 100 |

SSA Turns 100
November/December 2004
The 1906 Earthquake Centennial Alliance
For more than two years, several groups in Northern California have been working on plans to commemorate the centennial of the 1906 earthquake. In June 2002, scientists from USGS in Menlo Park and UC Berkeley met with SSA Executive Director Susan Newman to begin planning centennial activities related to the 2006 SSA annual meeting.
From these initial steps, plans for recognizing the earthquake centennial have grown rapidly. In order to coordinate planning and expand outreach efforts, an umbrella nonprofit organization known as the 1906 Earthquake Centennial Alliance was formed. The objective of the Alliance is to use the centennial of the 1906 earthquake to highlight a century of progress toward understanding earthquake hazards and reducing risks as well as to commemorate the cultural and social responses to this historic event. With a membership that spans academic and research groups, scientific and professional societies, historical societies and libraries, city, county, and state agencies, museums, parks, and corporations, the Alliance brings together policy makers, scientists, engineers, historians, educators, artists, emergency responders, and the general public to explore the lessons learned from this earthquake and ways to minimize the impact of future earthquakes on the San Francisco Bay area.
Currently, more than 60 groups and organizations have joined the '06 Alliance. In addition to the joint SSA, EERI, and California OES earthquake conference, a small sampling of activities includes:
The fraternal historical society, E Clampus Vitus, hopes to install a bronze plaque marking the 1906 epicenter in Daly City (an effort currently opposed by the Daly City town council).
The Oakland Museum is planning a major exhibit called "Where the Fault Lies", which will open in April and run through September 2006.
The Contra Costa Wind Symphony has commissioned a symphony by Steven Reineke for the 25th Anniversary of the Wind Symphony and the centennial of the 1906 Earthquake.
UC Berkeley's Bancroft Library is engaged in a major effort to digitize 1906 materials from its own collection, as well as materials from Stanford, the California Historical Society, and the Huntington Library.
A special volume of 1906-related field trips is being prepared and will be published by GSA in time for the centennial.
The Alliance is organized by a small steering committee, led by Mary Lou Zoback of USGS and Earl Aurelius, formerly of EQE International, who serves as the executive director. The quarterly meetings of the Alliance have grown into extremely popular events, with diverse presentations. For example, in October 2003, Carol Prentice of USGS provided an overview of the 1906 earthquake and discussed current research in paleoseismology along the San Andreas. In January 2004, the Alliance heard about the 1906 earthquake relief efforts and the roles of women in that endeavor from Stanford graduate student Andrea Davies-Henderson. More recently, the Alliance has heard from artist Ben Johnson, who has been commissioned to paint a panorama of San Francisco as part of the earthquake commemoration, and photographer Mark Klett, who is producing a series of "then and now" photographs. Ben Johnson's panorama will be unveiled at San Francisco City Hall in April 2006, with a long-term home in the renovated former United States Mint building in San Francisco. Mark Klett's photographs will be on display at the Legion of Honor in 2006, with plans for an accompanying book to be published.
The Alliance plans to provide guides and brochures to the entire array of centennial events as well as marketing and overall coordination of public relations for a wide range of planned activities including:
Public exhibitions at museums, university campuses, retrofit projects, and other venues
Park/open space exhibits
Field trips for the public on Bay Area faults
Public lecture series
Web-based activities and virtual field trips
Educational/curriculum materials
Information about the Alliance, including how to join, can be found on the Web at http://1906centennial.org/. This site also provides information about activities that are being planned and links to other related Web sites. The Alliance holds quarterly meetings which are open to anyone who would like to attend. Joining the Alliance assures e-mail updates about meeting times and locations.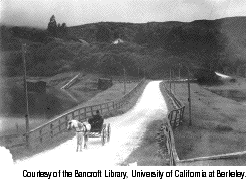 Figure courtesy of the Bancroft Library, University of California at Berkeley.
---
Posted: 23 July 2005