01 October 2015 – The complete October 2015 issue of the Bulletin of the Seismological Society of America (BSSA vol. 105, no. 5) is now available to SSA members and institutional subscribers online at GeoScienceWorld and BSSA Online. Click to view the table of contents for the issue. SSA members should log in to the members area and follow the link from there to BSSA Online to access full text or PDFs of all articles from the issue (log in with your SSA username and password required).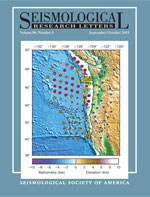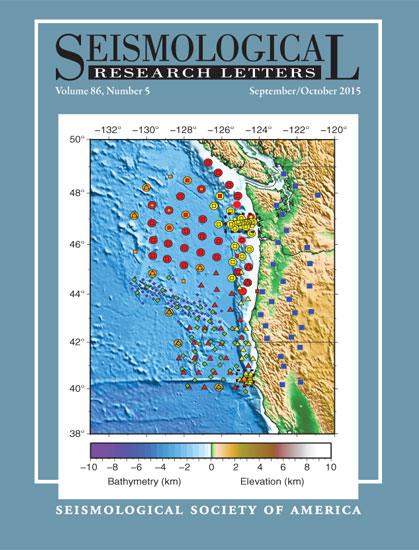 On the Cover…
The Cascadia Initiative, a community-based onshore and offshore seismic and geodetic experiment, is the subject of the focus section in this issue of SRL. The map here illustrates the project's amphibious array, deployed along the Cascadia subduction zone and designed to study numerous topics including megathrust earthquakes, episodic tremor and slip, volcanic arc structure, and the formation, deformation, and hydration of the downgoing Juan de Fuca and Gorda plates. Using data now available from the experiment, the SRL focus section provides a snapshot of current research that covers various aspects of this topic, including instrument performance, seismic structure and tsunami studies, and earthquake detection.
[ Close ]
10 September 2015 – Volume 86, Number 5, the September/October 2015 issue of Seismological Research Letters, is now available online at the GeoScienceWorld website.
This issue features a Focus Section on Cascadia Initiative Preliminary Results, guest-edited by Haiying Gao and Susan Schwartz, and also includes:
 
SSA members can access the complete online edition here.
Not a member? Join now to get immediate access.