July 30, 2015 – The complete August 2015 issue of the Bulletin of the Seismological Society of America (BSSA vol. 105, no. 4) is now available to SSA members and institutional subscribers online at GeoScienceWorld and BSSA Online. Click to view the table of contents for the issue. SSA members should click here to access full text or PDFs of all articles from the issue (log in with your SSA username and password required).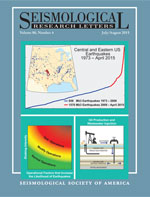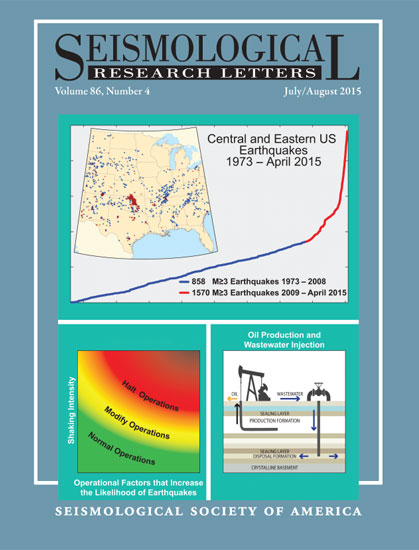 On the Cover…
Since 2009, the rate of seismicity in the central and eastern United States has increased sharply, as illustrated in the top image on the front cover. Almost all of this increase is attributable to seismicity induced by wastewater that is coproduced during oil extraction (lower right). Traffic-light monitoring systems have been introduced in some areas to mitigate induced seismicity; the lowerleft image illustrates schematically a new risk-matrix approach for traffic-light monitoring. Details can be found in the eight articles of the Focus Section on Injection-Induced Seismicity, published in this issue of SRL.
[ Close ]
July 1, 2015 – Volume 86, Number 4, the July/August 2015 issue of Seismological Research Letters, is now available online at the GeoScienceWorld website.
This issue features a Focus Section on Injection-Induced Seismicity, guest-edited by David W. Eaton and Justin L. Rubinstein, and also includes:
 
SSA members can access the complete online edition here.
Not a member? Join now to get immediate access.