Welcome!
Photo Credit: Frank Kovalchek
April 18 – SSA's 2014 Annual Meeting will be held 30 April – 2 May at the Egan Convention Center in downtown Anchorage, Alaska. Just under 300 oral presentations and 350 posters are scheduled in 35 sessions. The March/April issue of SRL, now available online, includes the complete list of meeting sessions, schedule, abstracts, and other details as a single, printable, downloadable PDF. Online registration is now closed, but onsite registration will be available at the meeting beginning on Tuesday, April 29th at 3 PM.
For additional online meeting resources visit the SSA 2014 Meeting home page. There you can find a searchable abstract database,hotel & travel info, Visa requirements, session descriptions, info for presenters, field trip details, this year's sponsors and exhibitors, and finally many exciting Alaska vacation ideas.
A single page printable pocket schedule overview can be downloaded here and our meeting "mobile web app" for smart phones and tablets is available here.
We look forward to seeing you in Anchorage!!
February 6 – The Bulletin of the Seismological Society of America will publish a special issue on the 28 October 2012 Haida Gwaii, British Columbia (Mw 7.7) and the 5 January 2013 Craig, Alaska (Mw 7.5) earthquakes, both of which are associated with the Pacific-North America plate boundary on the west coast of North America. The 2013 Craig event was a strike-slip event along the Queen Charlotte transform fault, while the 2012 event (about 350 km to the south) occurred along an east-dipping blind thrust fault beneath the Queen Charlotte Terrace. It was the largest thrust event ever recorded in this region. This special issue will focus on results of investigations into all seismological, geodetic, tsunami, other geophysical, geological, paleoseismic, and engineering aspects of the earthquakes…

Votes are in for SSA Annual Election!
January 24 – The annual election of the Seismological Society of America was held on January 3, 2014. Votes of current members that were received by the deadline, 5 PM on that date, were tabulated and validated by Election America, Inc.
The following four nominees for Director were elected to three-year terms which begin in April 2014: Laurie G. Baise, Eric Calais, Christine A. Goulet and Andy Michael…
October 27 – OpenGeoSci (http://opengeosci.org) is a free, public web application featuring a map-based discovery interface providing geographic searching for more than 300,000 maps, cross-sections, charts, tables, and other high-value content from GeoScienceWorld publications.
BSSA and SRL are included in GeoScienceWorld, an aggregation of 45 earth science journals. At launch, OpenGeoSci includes material published since 2000.
The goal of OpenGeoSci is to further aid researchers in discovery of relevant valuable assets for academic research. Using a combination of search terms, map locations, and a choice of filters, results take users directly to data within the displayed articles. OpenGeoSci speeds the research process and exposes a broad audience of earth scientists and other professionals to a variety vetted resources.
October 5 – Readers of the Bulletin of the Seismological Society of America (BSSA) no longer have to wait for the two months between issues of BSSA to read new articles. Beginning October 8th BSSA articles are being "Published Ahead of Print" (also known as "E-First" or "Pre-issue" publishing). As soon as an article has been reviewed, approved, copyedited, and formatted for publication, rather than being held until an entire issue is ready, it will be posted online. Every Tuesday BSSA articles which have been approved for publication in a future issue of BSSA will be made available to SSA members BSSA subscribers.
Latest SSA Journals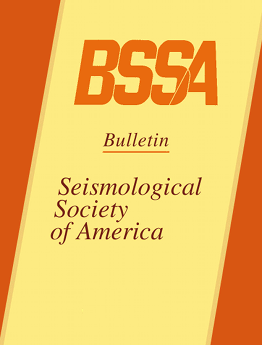 April 3 – The April 2014 issue of the Bulletin of the Seismological Society of America (BSSA vol. 104, no. 2) is now available online. Click to view the table of contents for the issue. SSA members should click here to access full text or PDFs of all articles from the issue (log in with your SSA username and password required). A press release, highlighting the article "The Profound Reach of the 11 April 2012 M 8.6 Indian Ocean Earthquake: Short-Term Global Triggering Followed by a Longer-Term Global Shadow" by Fred F. Pollitz, Roland Bürgmann, Ross S. Stein, and Volkan Sevilgen, is also available.
On the Cover…
Ghost forests like this one south of Seward, Alaska, formed after the great 1964 M 9.2 Alaska earthquake and tsunami, when subsidence drove tree roots below sea level and drowned them in salt water. Here researchers continue investigations into the post-1964 stratigraphic record at Bulldog Cove. The 1964 Alaskan earthquake has a widespread legacy that has shaped science and society in the 49th state and around the globe. Read more about the event, what's happened in the ensuing half-century, and what the future holds, in this issue's Opinion column. The article, co-authored by Alaskan scientists and the Alaska Seismic Hazards Safety Commission, introduces this great earth- quake's 50th anniversary and the 2014 Seismological Society of America's Annual Meeting, which will be held in Anchorage 30 April–2 May. Photo by Peter Haeussler, USGS.
[ Close ]
March 7 – Volume 85, Number 2, the March/April 2014 issue of Seismological Research Letters, is now available online. This is the Annual Meeting issue and includes important meeting information and abstracts of the approximately 650 presentations scheduled for the meeting which will be held in Anchorage, Alaska 30 April–2 May. Additionally, the issue includes:
Two press releases highlighting articles from the issue are also available:
SSA members can access the complete online edition here.
Not a member? Join now to get immediate access.