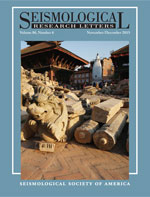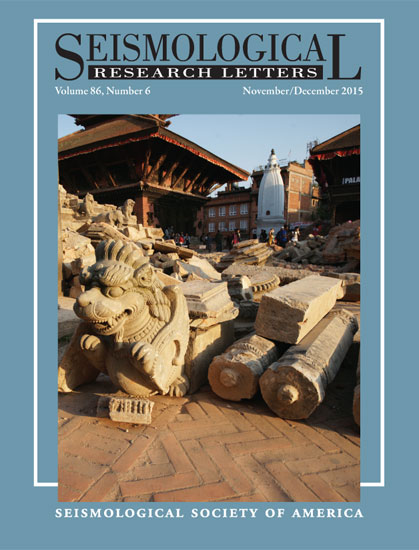 On the Cover…
Baktipur's Durbar Square, an historic gem of Nepal's densely populated Kathmandu valley, sustained significant damage in the 25 April 2015 Mw 7.8 Gorkha earthquake, as it did in a similarly large earthquake in 1934. Upon investigation, however, it's been found that last spring's earthquake caused less damage within the valley than had been anticipated. This unexpected observation in an area with known high earthquake hazard provides an urgent impetus to understand the event and better characterize the future hazard posed by large Himalayan earthquakes. Toward this end, the Focus Section on the 2015 Gorkha, Nepal, Earthquake (this issue) presents and describes available data sets and initial results that illuminate and interpret the 2015 Gorkha earthquake and its effects.
Photo by Roger Bilham.
[ Close ]
28 October 2015 – Volume 86, Number 6, the November/December 2015 issue of Seismological Research Letters, is now available online at the GeoScienceWorld website.
This issue features a Focus Section on the 2015 Gorkha, Nepal, Earthquake, guest-edited by Susan E. Hough, and also includes:
SSA members can access the complete online edition here.
Not a member? Join now to get immediate access.
01 October 2015 – The complete October 2015 issue of the Bulletin of the Seismological Society of America (BSSA vol. 105, no. 5) is now available to SSA members and institutional subscribers online at GeoScienceWorld and BSSA Online. Click to view the table of contents for the issue. SSA members should log in to the members area and follow the link from there to BSSA Online to access full text or PDFs of all articles from the issue (log in with your SSA username and password required).