Welcome!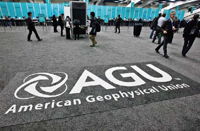 December 9 – Going to the AGU 2013 Fall meeting this week in San Francisco? SSA will exhibit at the meeting 9 – 13 December. Come by booth #116, enter member drawings, catch up on Society news, and say hello to the SSA team!
SSA members can enter a member drawing to win an emergency radio, or just pick up a few Alaska themed giveaway items in preparation for the 2014 Annual Meeting. Non-SSA members receive 15% off their first year of membership dues for joining at the SSA booth, and Students joining for the first time can become SSA members for 2014 - FREE! (New free student members will be entered in a drawing to win a 2014 Alaska calendar.)

Photo Credit: Luke Jones - Accretion Disc
December 2 – SSA's 2014 annual meeting will be held 30 April – 2 May at the Egan Convention Center in downtown Anchorage, Alaska. Abstract submissions are now being accepted online (the abstract submission deadline is Friday, January 10th at 5 PM Pacific time). Descriptions of the 30 special sessions planned for the meeting are here.
The meeting will provide a stimulating exchange of research on a wide range of topics with colleagues from all over the world. Oral presentations, poster sessions, exhibits, field trips, business meetings and social gatherings all provide participants the opportunity to meet and share with their peers.
For further information please visit the meeting home page.
October 27 – OpenGeoSci (http://opengeosci.org) is a free, public web application featuring a map-based discovery interface providing geographic searching for more than 300,000 maps, cross-sections, charts, tables, and other high-value content from GeoScienceWorld publications.
BSSA and SRL are included in GeoScienceWorld, an aggregation of 45 earth science journals. At launch, OpenGeoSci includes material published since 2000.
The goal of OpenGeoSci is to further aid researchers in discovery of relevant valuable assets for academic research. Using a combination of search terms, map locations, and a choice of filters, results take users directly to data within the displayed articles. OpenGeoSci speeds the research process and exposes a broad audience of earth scientists and other professionals to a variety vetted resources.
October 5 – Readers of the Bulletin of the Seismological Society of America (BSSA) no longer have to wait for the two months between issues of BSSA to read new articles. Beginning October 8th BSSA articles are being "Published Ahead of Print" (also known as "E-First" or "Pre-issue" publishing). As soon as an article has been reviewed, approved, copyedited, and formatted for publication, rather than being held until an entire issue is ready, it will be posted online. Every Tuesday BSSA articles which have been approved for publication in a future issue of BSSA will be made available to SSA members BSSA subscribers.
September 12 – This year, SSA's Board of Directors election will once again use an Internet voting system through Election-America. Members may now cast their votes in the SSA Annual Election directly from the Members' Area. Members may now access their ballot for the SSA Annual Election directly from the Members' Area (members will no longer be sent e-ballots and instead will need only to login to the Members' Area and click the "Vote Now" link). Reminders will be sent by Election-America and SSA. For assistance or to request a paper ballot, please contact SSA at 510.525.5474 or e-mail election [at] seismosoc [dot] org to request a paper ballot. (Please have your SSA Member ID number available.)

Candidate statements, technical specializations, and photos of the candidates were published in the September/October issue of Seismological Research Letters (SRL) and are available online here. The election closes at 5 PM PST on Friday, January 3, 2014. Please note that your membership must be renewed for 2014 before you can vote. Click here to renew now.
Latest SSA Journals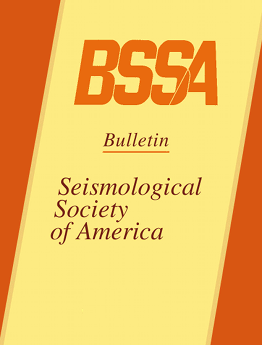 November 22 – The December 2013 issue of the Bulletin of the Seismological Society of America (BSSA vol. 103, no. 6) is now available online. Click to view the table of contents for the issue. SSA members should click here to access full text or PDFs of all articles from the issue (log in with your SSA username and password required). A press release highlighting the article "A Scenario Study of Seismically Induced Landsliding in Seattle Using Broadband Synthetic Seismograms" by Kate Allstadt, John E. Vidale, and Arthur D. Frankel, is also available.
On the Cover…
On 27 March 2013, an ML 6.1 earthquake struck Nantou County,Taiwan, with vibrant shaking that caused falling rocks, claimed one life, and injured 97. A detailed shaking map was produced within one minute of the earthquake's occurrence from a real-time seismic network developed by National Taiwan University (NTU) using 400 low-cost Micro-Electro Mechanical Systems (MEMS) accelerators. The regions of greatest shaking on the intensity map precisely indicate the location of damages and casualties, as described and discussed in Wu et al. (this issue). The NTU network and the shaking map it produced quickly provided essential information for understanding the earthquake's characteristics and estimating its impact.
[ Close ]
November 1 – Volume 84, Number 6, the November/December 2013 issue of Seismological Research Letters is now available online. This issue includes:
An opinion piece from SRL's new editor, Zhigang Peng:
Two Historical Seismologist columns:
Two Electronic Seismologist columns:
Additionally, eight electronic supplements (see the Table of Contents for links) and two press releases for articles from the issue are available:
SSA members can access the complete online edition here.
Not a member? Join now to get immediate access.