March/April 2006
Florence Robertson, 1909–1954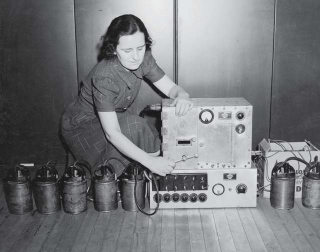 Florence Robinson demonstrates equipment in an undated photo.
Born in Paris, Texas, on 11 November 1909, Florence Robertson wanted to be a schoolteacher like her mother. After a stint at junior college, she studied education and mathematics at Texas Technological College in Lubbock. But when an earthquake literally rocked her world, she changed course—and eventually became one of the most prominent female seismologists in the world at that time.
"It was my first earthquake, and the only one I've ever felt," recalled Robertson of the minor tremor that occurred in 1936, while she was pursuing her master's degree in physics and mathematics at Texas Technological College. Intrigued, Robertson talked with the head of the physics department, who advised her to study with Father James B. Macelwane at St. Louis University and steered her toward a fellowship.
Robertson's parents were both dead, and she'd been sure there was no way to afford further study. The fellowship wasn't much—tuition plus $333—but it was enough to live on during those Depression years. Because of her teaching workload, it took her nearly 10 years to earn her Ph.D., but after that she progressed rapidly. In 1944, St. Louis University established its Institute of Geophysical Technology, and Robertson was well placed to take an active role in formulating the geophysical engineering curriculum. She was promoted to assistant professor in 1945 and became a full professor in 1951.
An eminent theorist, Robertson taught geophysical prospecting and was involved with basic research that resulted in the development of a seismographic method that could predict hurricanes two days earlier than was previously possible. She was known for her mechanical flair: "Precision instruments fascinate me, and I don't know of any in the department that I haven't taken apart," she once said. Her colleagues agreed, noting that "when she can't find what's wrong with an instrument—it's a job for the factory."
Robertson was active in many professional and scientific societies, including the Geological Society of America, the American Physical Society, the Society of Exploration Geophysicists , and the American Institute of Mining and Metallurgical Engineers. At various times she served as secretary of the Eastern Section, vice chairman, and chairman of the Seismological Society of America, and as secretary of the Section of Seismology and a member of the Executive Committee of the American Geophysical Union. She was chairman of the Section of Geology and Geophysics of the Missouri Academy of Sciences, chairman of the publications committee of the Subdivision of Geophysics of the American Institute of Mining and Metallurgical Engineers, and secretary of the St. Louis chapter of Sigma Xi. She was also a member of the mathematical honor society Pi Mu Epsilon, the St. Louis Academy of Sciences, and the American Society for Engineering Education.
Robertson's untimely death at the height of her professional career was a great loss to earth sciences and geophysical engineering the world over. She died at the age of forty-five on November 18, 1954, in Wichita Falls, Texas.
---
Compiled from George Killenberg, "A Scared Little Country Girl Has a Top Spot in a Man-Sized Science," St. Louis Globe- Democrat (undated, from the papers of James B. Macelwane, St. Louis University Archives) and James B. Macelwane, "Memorial Of Doctor Florence Robertson," Eastern Section Seismological Society of America Earthquake Notes 25 (1954) pp. 42–43.
---

[Back]
Posted: 23 March 2006