The COSMOS/EERI/SSA Bruce Bolt Medal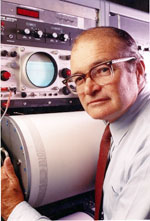 The Bruce Bolt Medal is awarded jointly by the Consortium of Strong Motion Observations Systems (COSMOS), Earthquake Engineering Research Institute (EERI) and SSA to an individual for their achievements according to the following criteria:
Promotion of strong-motion instrumentation or advancing strong-motion data processing or data utilization
Technical contributions in seismic engineering or engineering seismology
Leadership in the transfer of knowledge into practice or policy that has led to improved seismic safety
The award is issued annually and is presented to the recipient at the annual meeting of the recipient's choice among the three sponsoring organizations.
The nomination period for the 2020 Bolt Medal is 1 August–31 October 2019.
Nominations
To nominate an individual for the Bruce Bolt Medal you must submit a nomination package, which includes: 1) a nomination letter, which should be no longer than two pages, that addresses the ways in which the candidate meets the criteria for the award; 2) a summary of the professional history of the candidate, including employment, significant publications, honors, activities and accomplishments; 3) the current contact information for the candidate; and 4) up to three signed supporting letters, each no longer than two pages, that provide a personal perspective on the nominee and their sustained impact on the field.
Nomination Panel
The Joint Nomination Panel is charged with employing the above criteria to select a nominee worthy of the high level of professional recognition represented by the sponsorship of the Bruce Bolt Medal by SSA, COSMOS, and EERI. The panelists for 2018: William "Woody" Savage (Chair of the Bolt Panel), Jon Ake, Jose A. Martinez-Cruzado, Robert L. Nigbor, Robert R. Youngs and Maurice S. Powers. Please note that current members of the Joint Panel are not eligible for nomination.
Nomination Procedure
Nominations packages (preferably as one combined pdf file) for the Bruce Bolt Medal should be sent to the Bolt Medal Nomination Panel, in care of William (Woody) Savage at woodysavage@gmail.com. While electronic submissions are preferred, in .pdf or .doc formats, hard copies may be sent to the following postal address. If hard copies are sent, the sender should notify Woody by email.
Bolt Medal Nomination Panel
William Savage
c/o SSA
400 Evelyn Avenue, Suite 201
Albany, CA 94706
Incomplete nomination packages will not be considered by the Joint Nomination Panel.
Questions regarding the Bolt Medal criteria or the nomination process for candidates may be directed to Woody at the above email address.
Bruce Bolt Medalists
The Consortium of Strong Motion Observation Systems (COSMOS), Earthquake Engineering Research Institute (EERI) and SSA have selected Yousef Bozorgnia as the 2019 recipient of the Bruce Bolt Medal. Bozorgnia, a professor at the University of California, Los Angeles in both the Department of Civil and Environmental Engineering and the John … Continue Reading »