Provides support where it's needed most.  
As an unrestricted fund, The General Fund breathes life into bold new ideas that benefit our community. Ideas like The Seismic Record, SSA's newest journal and two grant programs — Global Travel Grants and  Community Grants Program — that supports members' initiatives that further our mission.
The fund has always supported the Annual Meeting—the most important gathering in our field worldwide. It helps members stay connected to one another and keeps the exchange of information going.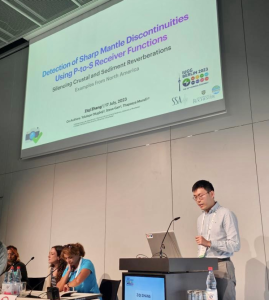 A gift of opportunities: 
"To me, the Global Travel Grant represents opportunities and possibilities – to share my work with the community, to learn the latest cutting-edge research, to expand my network and to broaden my horizons."
— Ziqi (Evan) Zhang (University of Rochester), on attending The International Union of Geodesy and Geophysics (IUGG) 2023 in Berlin, Germany with the help of an SSA Global Travel Grant.