Makes possible both the William B. Joyner Lecture Series and the Charles F. Richter Early Career Award. By supporting the fund, you can help educate others, honor outstanding work and inspire new accomplishments in our community.
The Joyner lecture series honors William B. Joyner's career at the U.S. Geological Survey (USGS) and his commitment to continuing communication and education at the interface between research findings of earthquake science and the practical realities of earthquake engineering.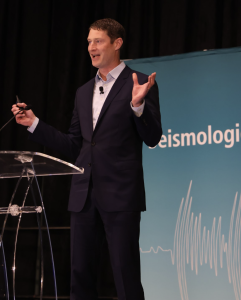 Our most recent Joyner lecturer is Jack Baker. His research is at the forefront of the interface between earthquake seismology and earthquake engineering, focusing on the use of probabilistic and statistical tools for modeling of extreme loads on structures. At Stanford, he has worked on projects involving risk to spatially distributed systems, earthquake ground motion characterization, and predictions of soil failure from earthquakes, among other topics. He is the director of the Stanford Urban Resilience Initiative, which applies engineering analyses to social impact and human behavior in the context of disasters and extreme events. Baker also has industry experience in seismic hazard assessment, construction management, and modeling of catastrophic losses for insurance companies, in part as co-founder of Haselton Baker Risk Group.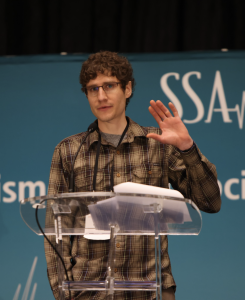 The Charles F. Richter Early Career Award, another important SSA award, honors outstanding contributions to the goals of the Society by a member early in their career. Daniel Trugman, an assistant professor at the Nevada Seismological Laboratory at the University of Nevada, Reno is the latest recipient.
Trugman's research focuses on developing and applying new techniques to analyze large seismic datasets to better understand earthquake rupture processes and how those processes relate to earthquake hazard. Among the topics he has examined in depth are earthquake source properties (including how they differ in induced versus natural earthquakes), earthquake early warning methodologies, and earthquake nucleation and triggering processes. His impressive body of work is advancing earthquake science and inspiring others in the SSA community to push the boundaries of knowledge.
A gift that supports research:
"I am incredibly honored to have received this award; I wouldn't be here without the support and encouragement from the SSA community." — Daniel Trugman, 2023 Charles F. Richter Early Career Award recipient