Current Issue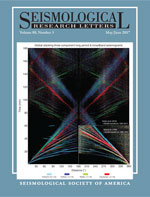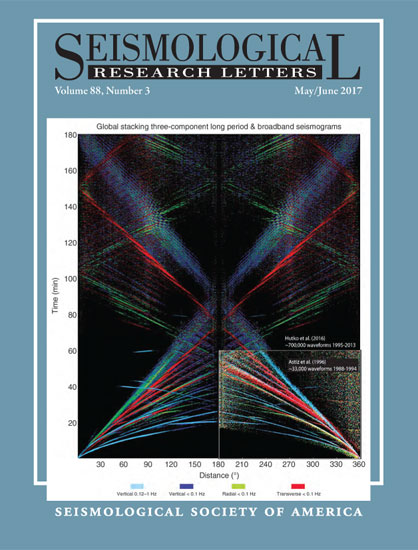 On the Cover…
Since 2010, the Incorporated Research Institutions for Seismology (IRIS) Data Management Center (DMC) has expanded its services to the seismology community beyond data archiving and distribution by offering higher order data products derived from its vast repository of raw waveform data. The 31 data products now available are described in Hutko et al. (this issue) and include Global Stacks, the stacking STA/LTA functions of waveform data available from IRIS from more than 2500 shallow earthquakes from 1995–2013 using different components of data in different frequency bands.
[ Close ]
Vol. 88, No. 3
May/Jun 2017

Seismological Research Letters provides a less-formal journal for communication among seismologists, engineers, and earthquake hazards-policy professionals. SRL includes articles of broad seismological interest, focus sections about earthquakes and contemporary topics, opinions, SSA news and more.
SRL features include Electronic Seismologist, Historical Seismologist, and EduQuakes, which connect science and the wider world of technology, history, social sciences and education.
SRL has the ability to quickly process and publish articles with preliminary reports about recent major earthquakes, allowing readers to keeping current. In addition to the bi-monthly full issues published online and in print, "E-First" SRL articles are now published weekly (on Wednesdays) at the Early Publication Page at GeoScienceWorld.
Author Information
Institutional Subscriptions

Online Column Indexes
The full text of SRL opinion pieces and EduQuakes columns can be read for free in the electronic edition of the journal at GeoScienceWorld.
---
Sign up for notifications
Sign up to receive Table of Contents and Publish-Ahead-of-Print notifications for BSSA and SRL

Save
Save
Save