Frank Press Public Service Award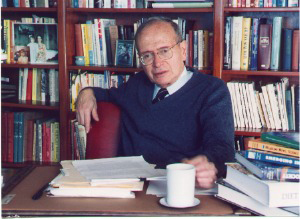 The Frank Press Public Service Award honors outstanding contributions to the advancement of public safety or public information relating to seismology. This award may be given to any individual, combination of individuals or organization. No more than one Public Service Award may be given each calendar year. The Public Service Award is presented at the annual meeting following the year of the award.
Call for Nominations
Nomination Procedure
Any member of the SSA may nominate a candidate for this award. A nomination package must be submitted to the Secretary of the Society at the address below no later than 15 February. The nominations package should contain a letter of nomination no more than 2 pages long summarizing the nominee's significant accomplishments and 2 – 4 supporting letters no more than 2 pages long. At least one supporting letter should be written by an SSA member. If an individual is being nominated, a curriculum vitae or biography is advisable, but not required. Please note that the principal nominator should integrate the nomination letters and send ONE nomination package to ensure that all letters of endorsement reach the decision makers on time. Questions may be directed to the Chair of the Frank Press Public Service Award Subcommittee, Monica Kohler monicakohler1@gmail.com. Please list Press Public Service award – Question as the subject line.
Nominations for all SSA awards are solicited from the members to be sent to the SSA Secretary, by the due date of 15 February. Electronic submissions should be e-mailed in .TXT, .PDF or .DOC files to awards@seismosoc.org. While electronic submissions are encouraged, hard copies may be mailed to:
Secretary, Seismological Society of America
c/o Nan Broadbent
400 Evelyn Ave, Suite 201
Albany, California 94706-1375
Fax: +1-510-525-7204
Lucy Jones, founder of the Dr. Lucy Jones Center for Science and Society, who served over three decades with the U.S. Geological Survey, is recognized for her significant and persistent contributions to earthquake safety and her generous work in sharing seismology research with the public "Lucy Jones has advanced public … Continue Reading »