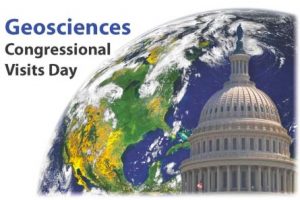 The Seismological Society of America, in collaboration with the American Geosciences Institute (AGI) and many other geoscience societies, invites geoscientists to Washington D.C. for the annual Geosciences Congressional Visits Day (GEO-CVD) on 12-13 September 2018. Decision makers need to hear from geoscientists. Join us and your colleagues for this two-day event uniting geoscience researchers, professionals, students, educators, engineers and executives in Washington D.C. to raise visibility and support for the geosciences!
If you have questions about participating or would like to register for GEO-CVD, please email SSA at govtrelations@seismosoc.org.
What To Expect
Participants will spend the first afternoon at a workshop honing their communication skills, learning how Congress works and how to conduct Congressional visits. They'll also learn about relevant legislation, federal agencies and programs. At the end of the workshop, participants are given time to craft and practice their messages one-on-one with geoscience policy staff.
The second day will consist of of escorted visits to meet with members of Congress and staff on Capitol Hill.
GEO-CVD Student Travel Grant
Funded through contributions by SSA members, the GEO-CVD Student Travel Grant Program provides U.S. graduate student members of SSA up to $2000 to cover transportation, lodging and food.
GEO-CVD Student Travel Grant Application
Deadline to Apply: Friday, 6 July 2018 at 5 PM PDT.