Charles F. Richter Early-Career Award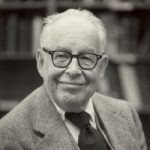 The Charles F. Richter Early-Career Award honors outstanding contributions to the goals of the Society by a member early in her or his career. No more than one Richter Award may be given each calendar year. The Richter award is presented at the annual meeting following the year of the award.
Call for Nominations
Nominee Criteria
Nominees must satisfy the following criteria: 1) they must be Regular or Honorary Members of the Society in good standing and 2) their most recent academic degree must have been awarded no more than six years prior to April 27 of the year in which they are selected for the award. Family or medical leave, if provided by the candidate's institution and taken by the nominee during this six-year period, can extend the six-year period.
Nomination Procedure
Any member of the SSA who is not on the Richter Award Subcommittee may nominate a candidate for the Richter Award. A nomination package must be submitted to the Secretary of the Society at the address below no later than 15 February of each year.
Nomination Package Materials
A letter of nomination no more than two pages long summarizing the nominee's significant accomplishments.
A single curriculum vitae with bibliography.
Two-to-four supporting letters, each of no more than two pages long. At least two letters must come from individuals who are not currently employed at the nominee's current institution or the institution from which the nominee received their most recent degree.
Nominator Disclosure Form, to be completed by principle nominator.
The principal nominator should integrate all of the above materials into one document for submission by 15 February 2020.
Questions may be directed to the Chair of the Honors Committee, Meghan S. Miller (meghan.miller@anu.edu.au). Please list Richter Award – Question as the subject line.
Nominations for all SSA awards are solicited from the members to be sent to the SSA Secretary by 15 February. Electronic submissions should be e-mailed in .TXT, .PDF or .DOC files to awards@seismosoc.org.
Mousavi, a research scientist at Google and an adjunct professor at Stanford University, has conducted pioneering works in the emerging field of machine learning applications in seismology. He has developed algorithms to solve multiple challenging seismological research problems, including earthquake source depth classification, earthquake signal detection, location determination, magnitude estimation, … Continue Reading »