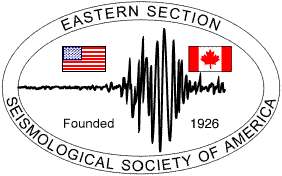 The Eastern Section of the Seismological Society of America honors outstanding contributions to observational seismology with the Jesuit Seismological Association Award. The award may be given for one specific contribution or for contributions through the years.
ES-SSA requests nominations for the 26th Annual Jesuit Seismological Association Award for Contributions to Observational Seismology. There are no restrictions on the recipients or achievements that can be nominated, but preference will be given to:
Members of the Eastern Section
Members of the Seismological Society of America
Contributions to the understanding of seismology and/or seismotectonics in eastern North America
The recipient will be selected by an awards committee established by the Eastern Section. Nominations must be made by a member of the Eastern Section.
To nominate a member:
Open or download the Nomination Form.
Fill out the form using Adobe Reader/Acrobat or other PDF-form capable software (or fill it out by hand and scan it).
Email the completed form to ES-SSA Secretary Michael Brudzinski at brudzimr@miamioh.edu.
Nominations must be received by 1 May 2021 to be considered for this year's award.
---
Former recipients:
Susan E. Hough (2021)
Alan Kafka (2020)
Robert Wetmiller (2019)
Chris Cramer (2018)
Art Frankel (2017)
Christine Powell (2016)
Martin Chapman (2015)
Russell Wheeler (2014)
Kenneth B.S. Burke (2013)
Robert Youngs (2012)
Charles Langston (2011)
Martitia Tuttle (2010)
Maurice Lamontagne (2009)
Won-Young Kim (2008)
Henry Hasegawa (2007)
Timothy Long (2006)
Gabriel Leblanc (2005)
Robert Mereu (2004)
John E. Ebel (2003)
Gail M. Atkinson (2002)
John Filson (2001)
Pradeep Talwani (2000)
Arch C. Johnston (1999)
Robert Herrmann (1998)
Fr. William Stauder, S.J. (1997)
Waverly Person (1996)
Gilbert A. Bollinger (1995)