The Harry Fielding Reid Medal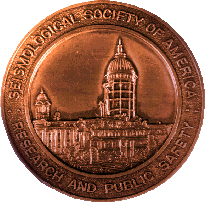 The Harry Fielding Reid Medal of the Seismological Society of America is awarded for outstanding contributions in seismology or earthquake engineering. It is awarded no more frequently than once in any calendar year. The medal is presented at the annual meeting following the year of the award.
Call for Nominations
Nomination Procedure
At least two but no more than five members of the Society may forward the name of a nominee together with a letter from each nominating member and a single, optional, curriculum vitae with bibliography in support of their nominee to the Secretary of the Society (address given below) on or before 15 February of each year. Each nomination letter may have more than one signer, but each signer should sign only one letter. To simplify communications with the Secretary, it is requested that all nominators for a particular nominee select among themselves a chief nominator through whom all correspondences with the Society will pass. Please note that the principal nominator should integrate the nomination letters and send ONE nomination package to ensure that all letters of endorsement reach the decision makers on time. Questions may be directed to the Chair of the Honors Committee, Bill Walter (bwalter@llnl.gov). Please list Reid Medal – Question as the subject line.
Nominations for all SSA awards are solicited from the members to be sent to the SSA Secretary, by the due date of 15 February. Electronic submissions should be e-mailed in .TXT, .PDF or .DOC files to awards@seismosoc.org. While electronic submissions are encouraged, hard copies may be mailed to:
Secretary, Seismological Society of America
c/o Nan Broadbent
400 Evelyn Ave, Suite 201
Albany, CA 94706-1375
Fax: +1-510-525-7204
USGS emeritus geophysicist David M. Boore received the Reid Medal for his four decades of work on the prediction of strong ground motion from earthquakes. "His contributions in the theory and practice of strong-ground motion estimation have been emulated by both earthquake scientists and earthquake engineers around the world. His … Continue Reading »