Provides support where it's needed most.  
As an unrestricted fund, The General Fund breathes life into bold new ideas that benefit our community. Ideas like The Seismic Record, SSA's newest journal, our five-part virtual series on tomography, and the Global Travel Grant, which sends student and early-career members to other scientific conferences worldwide and even provides funding for childcare.
The fund has always supported the Annual Meeting—the most important gathering in our field worldwide. It helps members stay connected to one another and keeps the exchange of information going.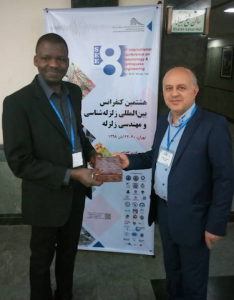 A gift of feedback: 
"The grant afforded me the opportunity to meet with experts from different parts of the world… The feedback which I received from the oral presentation of my work gave some insights that have helped to improve my research."
— Waheed G. Akande (University of Aberdeen) on attending the 8th International Conference of Seismology and Earthquake Engineering in Tehran, Iran, with the help of an SSA Global Travel Grant (at left with conference CoChair Farokh Parsizadeh).