An invitation to submit a paper. International collaboration. Feedback from senior scientists.
These career-changing connections happen at scientific conferences. SSA's Global Travel Grant gives more members the opportunity to enjoy them.
Now accepting applications through 31 July 2021, the grant program supports student and early-career members attendance at seismology-related conferences anywhere in the world.
"The SSA Global Travel Grant is special among other grants," says Leah Salditch, Northwestern University. "Not many professional societies provide you with the means to attend other meetings, especially ones in other countries." It's an opportunity to improve science, she adds, by "sharing [information] across political borders."
"The SSA Global Travel Grant is special among other grants."
In Fall 2019, Salditch received a Global Travel Grant to attend the 7th International Colloquium on Historical Earthquakes & Paleoseismology Studies in Barcelona, Spain. As the only American in attendance, Salditch shared her unique viewpoint, describing U.S. approaches to seismic intensity data collection and distribution and learning European methods. She also connected with a guest editor for an upcoming Seismological Research Letters issue and was encouraged to submit a paper on her research. Her paper on California seismic intensity data over the past 162 years appeared in the July 2020 issue of SRL.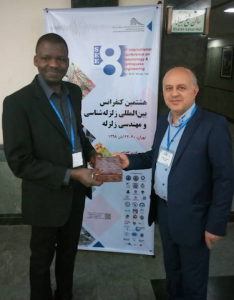 While Salditch was in Spain, Global Travel Grant recipient Waheed Gbenga Akande traveled from the University of Aberdeen in Scotland to the 8th International Conference of Seismology and Earthquake Engineering in Iran. Akande made a point to attend sessions on engineering seismology and earthquake early warning systems, noting that they "will be invaluable to my dreams of investigating cases in my country, Nigeria." He also gave an oral presentation on three-dimensional coda wave attenuation tomography and received valuable feedback that he said "will go a long way at improving my research."
In 2020, the Global Travel Grant program was expanded to offer grants to early-career members. The grant currently provides student and early-career SSA members up to $2,500 to attend any in-person or virtual seismology-related meeting or workshop that takes place from November 2021 through April 2022. Applicants may also request up to $500 to apply toward the cost of child care. Learn more and apply on the grants webpage.
"It is nice to see a society that is truly giving back to its community," says Salditch. "I am so grateful to have received this grant, and I encourage other members to take advantage of it in the future!"
If you would like to support the Global Travel Grant program, you may donate to the SSA General Fund.