SSA recognizes the importance of students and student participation in the SSA Annual Meeting.
Each year SSA provides student and international members with the opportunity to apply for several Society funded travel grants:
The Student Travel Grant is available to SSA student members from inside or outside the USA who must travel more than 500 km (311 miles) to attend the meeting.
The International Travel Grant is available to SSA members who are not students and who must travel from outside the US to attend the SSA meeting.
The ESC/SSA Travel Grant is available to anyone traveling from a member-state of the European Seismological Commission, regardless of SSA membership status. This grant is provided under a cooperative agreement between SSA and ESC. Click here to see the list of ESC member-states.
Applications are accepted each year, starting 1 November and due by 30 November at 5 p.m. Pacific. Travel grants cover the cost of meeting registration and provide a modest cash award. Only one application per institution may be awarded.
Student applicants must have a faculty advisor submit a 1-2 paragraph letter of support to ssagrants@seismosoc.org by the 30 November deadline for their application to be considered.
If you would like to show your support of SSA student members please consider making a tax deductible contribution to the SSA Student Travel Grant Fund today!
SSA Travel Grants help students grow at 2018 Seismology of the Americas

SSA and LACSC Travel Grant Recipients at Seismology of the Americas
University of Puerto Rico at Mayaguez student Vianca Severino Rivas wanted to attend at least one SSA Annual Meeting as an undergraduate. When she learned that Seismology of the Americas – SSA's joint meeting with the Latin American and Caribbean Seismological Commission – would be held in San Juan, Puerto Rico, she was convinced this would be her chance.
But Rivas' goal was jeopardized after Hurricanes Irma and Maria devastated the island and the Meeting was moved to Miami, Florida.
With the help of SSA's Student Travel Grant, however, Rivas – one of 12 recipients of the award – was able to make the trip.
In Miami, she delivered her first professional presentation and made important contacts.
"The feedback was awesome, something that I didn't expect," said Rivas, who will be moving to Seattle in the summer. "People came to me to talk about my work at the Puerto Rico Seismic Network and some of them told me that they know people in Seattle who would be interested in my work."
She wasn't the only Student Travel Grant Recipient who enjoyed the Meeting's networking opportunities.
Jefferson Yarce, a Ph.D. candidate at the University of Colorado Boulder, attended the meeting in search of feedback on his first paper, but Yarce found a more personal connection within the community.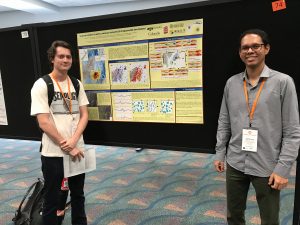 "The Meeting was special for me because I'm a Latino man from Colombia, and I was able to meet so many colleagues from Latin America."
He also met colleagues from throughout the world, including researchers from New Zealand he'd previously collaborated with on previous research.
"It was wonderful feeling like I belonged to a scientific community at the Meeting," said Yarce. "Now I know scientists that I can collaborate with in the future!"
For Claudia Aristizábal, who recently received her Ph.D. from Univeristé Grenoble Alpes in France, the Women in Seismology special event was especially significant.
"We discussed our feelings, past experiences, future perspectives and successes and frustrations about science," she said. "This reflection space allowed me to understand that there's still a lot that needs to be done to reach gender equality in geosciences. But I am glad to see that the SSA cares about female participation in science and brings these discussions up."
Lizhong Zhang, a Civil Engineering graduate student at the University of Bristol, saw the Meeting as the ideal space to present his research, learn new things and meet other students. "I definitely had some new ideas by looking at what other researchers are working," said Zhang. "Also, I felt motivated by discussing and testing different ideas with others."
Zhang wasn't the only student who found the Meeting motivational.
"The format and setting encouraged discussion, which really energized me about my research," said the University of New Hampshire's Pamela Moyer. Like many students, Moyer applied for the Travel Grant due to limited funding for travel at her university.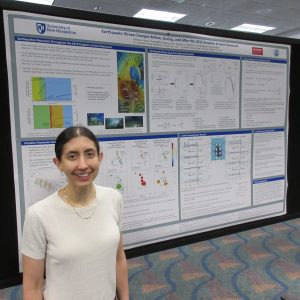 "I would not have had this opportunity without the grant."
Currently studying earthquake source parameters and rupture processes at mid-ocean transform faults, submarine volcanoes and deep South African gold mines, Moyer received valuable feedback on her presentation, discovered new seismological research and explored post-graduate options.
"There were people who expressed interest in my work and encouraged me to contact them about opportunities that may lead to full-time research following my Ph.D.," said Moyer.
The chance to collaborate with other scientists – from early career to experienced – drew University of Utah student Sin-Mei Wu to the Meeting.
"SSA provides great opportunities for students to learn, present and discuss with scientists within a relatively focused group," said Wu, who studies seismology's applications to hydrothermal systems. "I had opportunities to talk to lots of people, and I received lots of constructive feedback for my own research."
Wu also learned about possible connections between his research and other fields.
"This is very exciting to me as a student because what I've learned can be applied to a different area and make a contribution."
When asked if they would attend future SSA Annual Meetings, the answer was a unanimous yes – especially for Rivas.
"I will be moving to Seattle, and the next Annual Meeting will be there, so I am excited!"
Thanks to contributions from SSA members, Student Travel Grants provide modest awards to help fund the cost of travel to SSA meetings. Learn more about the program and consider helping future students by making a tax-deductible contribution to the Travel Grant Fund today.
For a complete list of award recipients, click here.
Previous Award Recipients
Hear from the 2017 Annual Meeting SSA Student Travel Grant Award recipients.