BSSA, SRL and TSR
Whether you're a new or established author, you may have questions about submitting a paper to the SSA journals: The Bulletin of the Seismological Society of America (BSSA), Seismological Research Letters (SRL) and SSA's newest journal, The Seismic Record (TSR).
Here's a quick guide to each journal:
Bulletin of the Seismological Society of America (BSSA)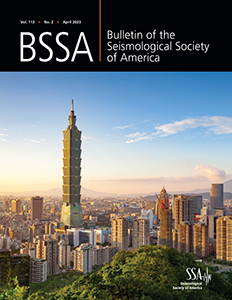 Established in 1911
2022 Impact Factor: 3.0
The Bulletin of the Seismological Society of America (BSSA) publishes original research articles in the fields of earthquake seismology, Earth structure imaging, seismic hazard assessment and related disciplines. Regular BSSA papers advance theory, present new methods, and show novel applications. Periodic special sections cover major earthquakes and technological advances with broad impact for the field. BSSA's format allows papers to fully explore research topics in detail.
.
Topics published in BSSA include, but are not limited to:
Seismic source studies: applications to problems concerning earthquakes, volcanic, geothermal and non-earthquake sources (landslides, impacts and explosions), theory, and new methods;
Seismic imaging of Earth structure at all scales (Crust, Mantle, Core): applications, theory, and new methods;
Understanding fault history, seismotectonics, fault mechanics, and earthquake recurrence applying geodesy, paleoseismology and computer or analog modeling of earthquake processes;
General theoretical seismology;
Seismic wave propagation including development of models and methods for computation and simulation of ground motions;
Influence of near-surface structure and wave propagation effects on ground motions;
Forensic seismology including explosion monitoring;
Development of new geological or geophysical methods to understand seismicity, seismic hazards or Earth processes influencing the field of seismology;
Development of new instrumentation to study seismicity and earthquake effects; and
Investigations of important recent earthquakes, re-examination of significant past earthquakes, and studies of earthquake effects such as tsunamis, landslides or damages.
Further information may be found on the BSSA submissions page.

Seismological Research Letters (SRL)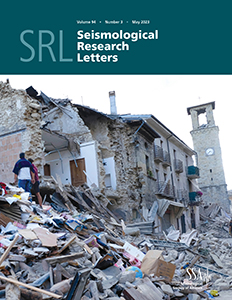 Established in 1987 (1929-1986, known as Earthquake Notes)
2022 Impact Factor: 3.3
Seismological Research Letters (SRL) is a research journal that publishes articles on seismology and related topics, with the goal of bridging the gaps between subspecialities within the broad geoscience audience. Periodic focus sections present paper collections on topics of special and timely interest to the community. The journal also features regular columns on topics including emerging research, historical seismology and special data collections.
Topics published in SRL include, but are not limited to:
informational articles about recent earthquakes or new analyses of broad interest to the seismic community;
documentation of interesting or important observations about damages or effects from significant earthquakes;
descriptions of, or new information about, historical earthquakes;
descriptions or assessments of new instrumentation, methods, and available software tools;
descriptions of field deployments that will yield data that will be available to the community.
SRL also differs from BSSA in offering a variety of columns, including: Opinion, Electronic Seismologist, Historical Seismologist, EduQuakes, Data Mine, Emerging Topics (solicitation by Editor-in-Chief), Communicating Science and In Memoriam.
Further information may be found on the SRL submissions page.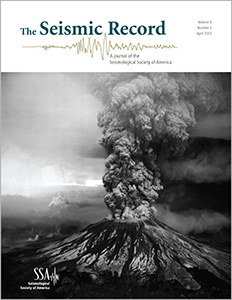 The Seismic Record (TSR)
Established in 2021
The Seismic Record is an open-access, online-only journal publishing short form papers covering the entire spectrum of seismological science. The journal provides an outlet to cover recent events and current topics of strong significance, warranting rapid peer review and publication within 60 days of submission. Papers must be no more than 3500 words and include no more than 30 references.
All articles must include a data availability statement with links to publicly archived datasets generated during or analyzed as part of the research. Supplemental material may be accepted at the discretion of the Editor.  Authors will retain copyright, and articles will publish under a CC-BY license.
Authors are encouraged to submit their follow-on, more comprehensive, substantive and technical full-length articles to BSSA or SRL.
Further information may be found on the TSR submissions page.