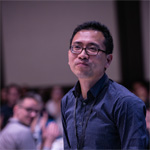 Zhigang Peng received the Distinguished Service to SSA Award for his six years of service as Editor-in-Chief of Seismological Research Letters. In their nomination of Peng for the award, past SSA journal editors Andrew Michael and John Ebel cited Peng's innovative spirit and energetic work to expand the journal's reach and prestige from 2013 to 2019.
"Under his leadership SRL improved in every way imaginable," Michael and Ebel said. "Zhigang's vision, energy and enthusiasm for the journal has taken SRL to a new level that we hadn't pictured, and we are excited when each issue becomes available."
Two years after Peng began his tenure as editor-in-chief, the average time to obtain reviews for papers dropped from 40 days to 21 days, and the time to a first decision going to an author decreased from 61 to 42 days. The faster review process led in part to the growth of the journal and its positive impact on the Society's finances.
Peng also introduced three new columns to the journal: Data Mine, Communicating Science and Emerging Topics, each of which expanded the kinds of content available in SRL and efficiently shared new data and techniques throughout the seismological community.
He significantly increased the number of focus sections as well, overseeing the production of 18 sections across a variety of topics in six years. The Geophysical Networks and Related Developments in Latin America focus section, in particular, was instrumental in cementing a new relationship between SSA and the Latin America and Caribbean Seismological Commission (LACSC) that has continued after the 2018 joint SSA-LACSC Annual Meeting in Miami.
"I am greatly honored to receive this prestigious award from SSA. I am well connected with SSA throughout my student life as well as my professional career. It has been a wonderful journey of my academic life to serve as the editor-in-chief of SRL for nearly six years. I enjoyed the opportunity to expand SRL in multiple directions, while maintaining its unique position as the forum for publishing informative and timely articles of interest to our community." Peng said.
"I also would like to take this opportunity to thank many authors, reviewers, associate and column editors, former SRL managing editor Mary George, and SSA staff for their service and support to keep SRL successful," he added.
Peng is a professor of geophysics at the Georgia Institute of Technology. He received bachelor's degrees in computer application and geophysics at the University of Science and Technology in China in 1998; and his master's degree in electrical engineering in 2002 and his Ph.D. in geological sciences in 2004 at the University of Southern California, Los Angeles.