Through the work of our Government Relations Committee, SSA is supporting the Congressional reauthorization of the National Earthquake Hazards Reduction Program (NEHRP). NEHRP is the federal government's coordinated long-term nationwide program to reduce risks to life and property resulting from earthquakes, and to facilitate social, economic and industrial recovery after a major earthquake.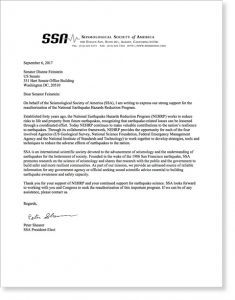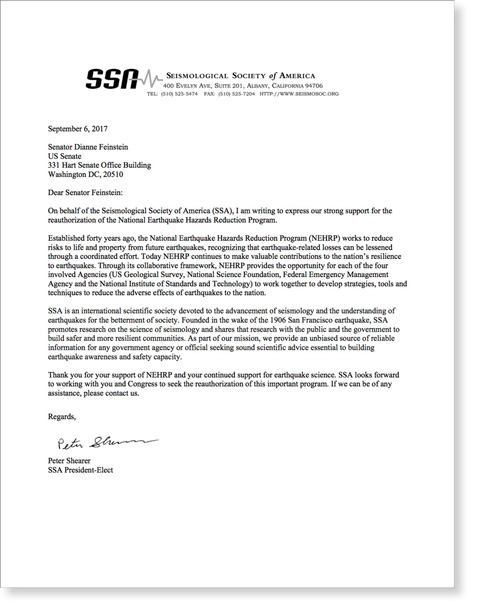 On September 6, Senator Dianne Feinstein (D-CA) introduced a bill to reauthorize NEHRP, co-sponsored by Senators Maria Cantwell (D-WA), Cory Gardner (R-CO), Kamala Harris (D-CA), Jeff Merkley (D-OR), Lisa Murkowski (R-AK), Patty Murray (D-WA) and Ron Wyden (D-OR). SSA strongly encourages Congress to act on the reauthorization of NEHRP and will continue to work with Sen. Feinstein and others to ensure the bill's passage into law.
In addition to the SSA Board of Directors' statement on reauthorization, a letter of support was sent to Sen. Feinstein by SSA President-Elect Peter Shearer.
——
Post note: Read an opinion piece in the Salt Lake Tribune by our members who wrote in support of NEHRP reauthorization.