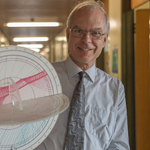 Brian L. N. Kennett, emeritus professor of seismology at the Australian National University, is the recipient of the 2023 Harry Fielding Reid Medal,
Kennett is recognized for research spanning almost all areas of seismology, especially wave propagation, portable network deployments, seismic tomography and distributed acoustic sensing (DAS).
He is perhaps best well known for his role in developing two spherically symmetric reference Earth models, IASP91 and AK135, which markedly improved body wave travel time calculations compared to earlier models and led to a better characterization of the deep Earth, especially the core.
These two models "have become standard reference models for global body wave tomography and are now used in major international agencies for earthquake location," said Thorne Lay, Distinguished Professor of Earth and Planetary Sciences at the University of California, Santa Cruz, who nominated Kennett for the Reid Medal.
Kennett also led a multi-decade effort of seismic array studies of the Australian continent, developing detailed, increasingly higher-resolution 3D models of the crust and mantle velocity structure in this unique tectonic environment. These large-scale transportable seismic array experiments, including the SKIPPY and WOMBAT deployments, were one of the inspirations for the USArray project in North America. He has also had a long-term engagement in understanding the complex wave propagation processes in the subduction zones of the Northwest Pacific.
Kennett has been active in international seismological organizations, including as president of the International Association of Seismology and Physics of the Earth's Interior (IASPEI). One of the hallmarks of Kennett's career is his collaboration with researchers from numerous countries, noted Lay, who was the 2014 recipient of the Reid Medal. Kennett has been a visiting scholar at institutions in France, Germany, Japan, Norway and the United States, as well as collaborations with India, Indonesia and South Korea.
In their commendations of Kennett, his colleagues noted his exceptional commitment to mentoring the next generation of seismologists. He has served as an advisor to 35 Ph.D. students and numerous postdocs, and shared critical expertise and experience in publications like his 2014 book Planning and Managing Scientific Research: A Guide for the Beginning Researcher.
Kennett's publication record also testifies to a career-long and substantial impact on his field. He has co-authored more than 340 peer-reviewed papers and published 10 first-authored technical books in seismology. He has received numerous honors and awards throughout his career, including the European Geosciences Union's Gutenberg Medal, the Gold Medal for Geophysics from the Royal Astronomical Society, the Australian Academy of Sciences' Matthew Flinders Medal and the Inge Lehmann Medal of the American Geophysical Union.
Kennett received his B.A. in theoretical physics in 1969 and his Ph.D. in theoretical seismology in 1973 from the University of Cambridge.