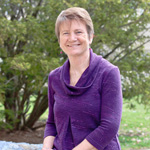 Gail M. Atkinson is recognized for her seminal contributions in engineering seismology, especially regarding ground motion characterization. She is one of the pioneers of the stochastic ground motion simulation method, used to predict strong ground motions from earthquakes in regions where seismic data are limited.
Her work to develop ground-motion prediction equations (GMPEs), which predict the level of expected shaking at a certain distance from earthquakes of a given magnitude, have made her a leading authority on seismic hazard relevant to engineering in central and eastern North America. These GMPEs underlie seismic hazard probability maps in these regions that inform new construction and retrofitting building codes.
"Professor Atkinson is an internationally recognized authority on earthquake strong motion and the hazard earthquakes pose to society," said William Ellsworth, a Stanford University professor of geophysics who nominated Atkinson for the award. "She has made transformative contributions to engineering seismology in essentially every sub discipline of the field, covering the source, path and site. There is no question that her contributions to ground motion prediction in the face of sparse and uncertain data have been extraordinary."
In recent years, Atkinson has also become a leader in the study of induced seismicity, especially in investigating the relationship between hydraulic fracturing and seismicity in western Canada. Her painstaking work, which drew together disparate groups from academia, industry and government to collaborate on the controversial issue, has made major critical contributions to this relatively new field within seismology, her colleagues noted in their commendations for the award.
Atkinson's publication record also testifies to a career-long and substantial impact on her field. She has published more than 250 papers in refereed journals, with at least 10 publications cited more than 400 times, and more than 18,000 citations as of this writing—making her one of the most cited researchers in engineering seismology.
Along with her research contributions, Atkinson has served in several high-profile leadership positions within the geoscience community, including as the first woman president of both the Canadian Geophysical Union in 2011 and the Seismological Society of America in 2001. Among numerous honors and awards, Atkinson was named SSA and the Earthquake Engineering Research Institute (EERI)'s 2007 William B. Joyner Memorial Lecturer and was the recipient of the 2002 Jesuit Seismological Association Award for Contributions in Observational Seismology of the Eastern Section of the SSA.
"As an educator, Atkinson has supervised an impressive list of both doctoral and master's students, exploring with them a remarkably wide range of problems in basic and applied seismology," said Ellsworth. "She also maintains strong ties to industrial and regulatory partners that ensure the results of her research is applied and benefits society."
Atkinson has served as lead advisor for 19 master's students and 16 Ph.D. students, including many women and students from developing countries. In their commendations, her colleagues noted that Atkinson was unstinting in her mentorship and efforts to include her students in significant research projects, and that her rigor and work ethic were evident in those she has trained over the years.
"I am overwhelmed to receive the unexpected honor of the Harry Fielding Reid Medal," Atkinson said. "I extend my heartfelt thanks to my esteemed colleagues for the nomination—and also to the wider and sometimes seamless mesh of colleagues, friends, students and family that have supported and enriched my career and life in seismology."
Atkinson received her bachelor's degree in geology and physics from Carleton University in 1978, and her master's degree in civil engineering in 1981 and her Ph.D. in geophysics in 1993 from Western University.