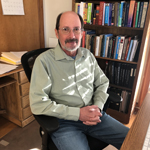 Mitch Withers, an associate research professor at the University of Memphis and the Center for Earthquake Research and Information (CERI), received the 2023 Distinguished Service to SSA award for his service as SSA treasurer for 15 years.
From 2007 to 2022, Withers monitored the society's monthly financial progress, provided management counsel, and served on several key committees, including the Investment Committee, Management Committee, Audit Committee and as chair of the Budget Committee.
Among his projects as treasurer, Withers worked with others to update the SSA Bylaws and Board Policy Manual, established a reserves policy and ensured steady growth of those reserves for SSA, established a quasi-endowment to supply permanent funding of grant programs, and participated in developing two strategic plans for the society.
"I enjoyed working with Mitch for several years when I was SSA's secretary," said SSA President Peggy Hellweg. "He was a great resource for institutional knowledge, and his suggestions were always thoughtful and pertinent."
In his nomination of Withers for the award, U.S. Geological Survey earthquake hazards geologist Keith Knudsen said Withers' "conscientious oversight, creative ideas and unwavering commitment to his role have helped keep SSA on strong financial and ethical footing."
As is fitting for a seismological society headquartered in the Bay Area, "Mitch has been a key component of our business continuity plan for disaster recovery," added Knudsen, who was the 2017 DSA recipient. "He was trained on all financial aspects so that he could step in to run the organization if necessary, should there be a large damaging earthquake in California."
Withers' research interests include seismic and computer network operations and management, real-time seismic data processing, and automated earthquake detection and location algorithms. At CERI, he serves as the interim director and as the seismic network manager overseeing an ANSS participating network that operates more than 140 seismic stations in nine states and imports data from more than 100 additional stations in the region.
Withers received his B.S. in physics from Millersville University in 1992, and his M.S. in geophysics in 1994 and Ph.D. in Earth and environmental science in 1997 from New Mexico Tech.