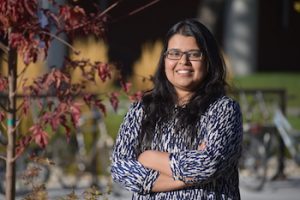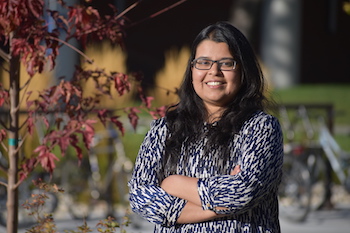 Swasti Saxena, a graduate student at the University of Nevada, Reno, knows the excitement that precedes presenting her research before leaders in her field. At the 2019 Structural Mechanics in Reactor Technology (SMiRT) 25 conference, she was "starstruck" to find herself presenting in the same session as senior scientists Yousef Bozorgnia and Kenneth Campbell.
Saxena uses their equations in her research utilizing large-scale wavefield simulations to predict vertical ground motion and to improve the resilience of nuclear power plants. "To be presenting in the same session as them… Wow," she says. "I was glad they presented before me, because I got to see them as humans, as people answering questions."
Saxena says the experience wouldn't have been possible without an SSA Global Travel Grant. Through the program, SSA offers its early-career and student members financial support to present their research at scientific conferences and workshops anywhere in the world.
"I am an international student, and my education in the U.S. is dependent on having funding. Conference experiences are very important, but traveling can be expensive," she says. "SMiRT 25 was in Charlotte, North Carolina, but I live in Reno, Nevada. I was running out of funding, so I started looking out to other avenues."
Saxena applied for a Global Travel Grant after reading about it in SSA's 3-Minute newsletter.
"Conferences keep me focused and aware of the industry's needs and the progress being made by the community. My abstract had already been accepted, so this conference would provide a place for me to showcase the progress we made towards the resilience of nuclear power plants."
After presenting at SMiRT, Saxena discussed her research with fellow conference attendees. During one conversation, Saxena learned about a new paper, an update to one of the papers she used in her research. The attendee she struck up a conversation with just happened to be a peer reviewer.
"When you go to a conference, you get to know what new research is going on, what improvements are being made." Saxena continues, "You are always getting a fresh perspective. You don't have to wait to put it in a journal with a peer review, you get immediate feedback."
This year, many conferences are virtual due to COVID-19. To accommodate these events, SSA's Global Travel Grant program will expand to allow applications for virtual conferences and workshops. Applications are open from 1–31 July. Visit the Global Travel Grants webpage to learn the full eligibility requirements.
If you're interested in providing students an opportunity to attend meetings in 2020, donate to SSA's Student Travel Grant fund today.