Eastern Section SSA
2014 Annual Meeting
2–4 November 2014
Charleston, South Carolina, USA
Hosted by

The Online Registration Deadline is Tuesday, 28 October 2014 at 9 PM Pacific time.
Onsite registration will be available at the meeting.
Meeting Schedule
Sunday, November 2, 2014
Field Trip: Meet 10-10:30 AM Lobby of the Francis Marion
Depart at 10:30 AM sharp.
Ice Breaker and Registration: Colonial Ballroom; 6:00 – 8:00 PM
Set up of exhibits and posters: Colonial Ballroom; 6:00 – 8:00 PM
Monday, November 3, 2014
Conference: Colonial Ballroom; 8:30 AM – 5:00 PM
Banquet: Calhoun Room; 6:30 – 9:00 PM
Jesuit Seismological Award
Robert H. Faust, PE, Cumming Construction Management
Tuesday, November 4, 2014
Conference: Colonial Ballroom; 8:30 AM – 12:00 PM
ES-SSA Annual General Assembly: Colonial Ballroom; 12:00 – 1:30 PM
The 86th annual meeting of the Eastern Section of the Seismological Society of America will be held 2–4 November 2014 at the Francis Marion Hotel located in Charleston, South Carolina, USA.
Charleston, South Carolina has been voted the Top U.S. City by Conde Nast Traveler Reader's Choice Awards for 3 years in a row (2011, 2012 & 2013). The city's rich history, well-preserved (and earthquake-damaged) historical architecture and vibrant restaurant scene attracts visitors from around the world. For additional tourist information on Charleston, please visit http://www.charlestoncvb.com.
The Charleston, South Carolina region is also one of the most seismically active parts of the U.S. East Coast. Summerville, South Carolina, 30 kilometers inland from Charleston, was the epicentral region of the largest known earthquake on the east coast, the 31 August 1886 event with an estimated magnitude between 6.7 and 7.3. Regularly occurring seismicity continues in the Middleton Place-Summerville Seismic Zone, with one or more felt events occurring almost every year.
Oral and poster presentations are welcomed in all areas of seismology, earthquake engineering, crust and mantle structure of eastern North America, emergency response and preparedness, earthquake hazard mitigation, earthquake education, or any topic consistent with the objectives of the Seismological Society of America. We also encourage papers related to these same topics from other "passive-aggressive margins" similar to the U.S. East Coast. Papers relevant to eastern North America and student papers are particularly encouraged. Abstracts must be submitted for all presentations.
Meeting Contacts
Steven Jaumé
Tel. 1-843-953-1802
Eml. jaumes [at] cofc [dot] edu
Norman Levine
Tel. 1-843-953-5308
Eml. levinen [at] cofc [dot] edu
Abstracts were accepted through the SSA website until 29 September 2014.
Student Travel Grants
Travel awards for students submitting abstracts will be available on a competitive basis. To apply, send an email to jaumes [at] cofc [dot] edu with "ES-SSA Student Travel Grant Application" in the subject line, listing the following information: your first and last name, title of your paper, your estimated travel expenses, and any other sources of funding available for your travel to the meeting.
Student Awards
Awards will be given for the best oral and poster presentations by students.
Online registration at the normal rate is available through 14 October 2014. Online registration will be available at a higher rate from 15 October 2014 through 28 October. On-site registration will be available 2-3 November 2014. Click here to access the Registration form.
The registration fee includes the meeting program, breakfast, lunch, morning and afternoon coffee breaks, and Icebreaker Reception on Sunday evening, 2 November. If you are registering at the student rate, you will be required to present your student ID at the registration desk at the meeting.
Banquet
A dinner banquet will be held on Monday evening, 3 November from 6–9 PM in the Gold Room of the Francis Marion Hotel.
Field Trip
A field trip is planned for Sunday, 2 November 2014, leaving the Francis Marion Hotel mid-morning and returning in the early afternoon. A lunch stop in the Charleston downtown restaurant district will be arranged.
Earthquake Impacts on Historical Architecture in Charleston, South Carolina
Leaders: Steven Jaumé'/Norman Levine (College of Charleston) and Craig Bennett, Jr./Lyles McBratney (Bennett Preservation Engineering PC)
The field trip is a walking tour through historical Charleston to examine the impact of the 1886 earthquake on the architecture of the city. Both earthquake damage and subsequent repairs are readily visible in masonry, wood frame and mixed construction in the city. Besides a general overview of damage caused by the 1886 earthquake, the trip will include stops at Charleston's Waterfront Park, where issues related to the development of the city on artificial fill over Holocene tidal marsh deposits will be discussed, Grace Episcopal Church, which has undergone considerable seismic retrofit after being damaged by both the 1886 earthquake and the 2011 Mineral, VA earthquake, and the American College of the Building Arts, housed in the Old Jail, which was severely damaged in the 1886 earthquake and is currently undergoing restoration.
Hotel Information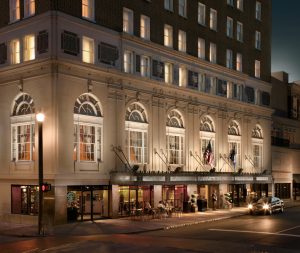 The Francis Marion Hotel
387 King Street
Charleston, South Carolina 29403
USA
Toll Free: 1-877-756-2121
Email: reservations@thefrancismarion.com
Website: www.francismarionhotel.com
The Francis Marion Hotel is where the meeting technical sessions will be held. A block of rooms has been reserved for the 2014 ES-SSA meeting starting at a ba sic rate of $119 USD (tax and destination fee not included). For reservations, please contact the Francis Marion Hotel at 1-877-756-2121 (toll free) or 1-843-722-0600 or reservations@thefrancismarion.com.
Important: Callers should reference the Eastern Section of the Seismological Society of America when booking their room to get the group rate. Lodging reservations from the block of rooms being held for the ES-SSA meeting will only be available until 3 October 2014. Reservations received after that date will be provided on a space-available basis at prevailing rates.
Travel Information
Charleston, South Carolina is served by the Charleston International Airport which has daily flights from Atlanta, New York (LGA, JFK and Newark), Washington, DC (DCA and IAD), Chicago, Philadelphia, Charlotte, Boston, Miami and several other locations. Airlines include American, Delta, Jet Blue, Southwest, United and US Airways. There is also an Amtrak station in North Charleston.