18 January 2022–For as long as Alicia Hotovec-Ellis can remember, she's had "three core pieces of identity," she said. "I like to draw, my favorite color is fire, and I want to be a scientist when I grow up."
She spent hours during her college days writing and illustrating a 400-page graphic novel that was finished during her Ph.D. work, though the artistic effort left her feeling a little burnt out, she admitted. But the volcano seismologist continues to explore the gradient of colors that makes fire her favorite in the sprawling images she's painted and hung in her office at the U.S. Geological Survey's California Volcano Observatory.
"I've turned a lot of my creative energy toward the presentation of my science," Hotovec-Ellis said.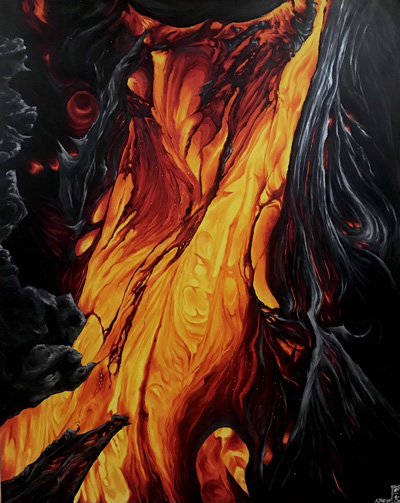 As far as the science part goes, Hotovec-Ellis gave up her dream of being an astronaut at age ten when she started wearing glasses. (Today she works on a NASA campus and is greeted by a space shuttle replica when she comes into work.) But she never grew out of loving volcanoes, making sure they were at the center of her classes and research even as an undergraduate and master's student at the Colorado School of Mines. She began studying volcanoes from a seismic perspective in graduate school, inspired in part by her work as a student employee at the National Earthquake Information Center.
Volcano monitoring is one of Hotovec-Ellis' long-term interests, and "seismology is one of the first lines of defense for detecting unrest at a volcano," she explained. "We try to better understand seismicity that we've observed in past eruptions and why it happened. And then when another eruption happens, we use what we learned to try and better characterize what's going on at the volcano and use that to better anticipate what it might do next."
"The trick, of course, is that every volcano and eruption has its own personality," she added. "Applying what we've learned in the past isn't quite as straightforward as Volcano A did this, so that means Volcano B is going to do the same thing."
Seismic monitoring can be complicated in part because of the diverse types of seismic activity associated with volcanoes. Along with swarms of discrete earthquakes at volcano sites, there can be continuous tremor caused by a variety of processes like gas and magma movement below the Earth's surface. At the surface, seismic signals can come from rock falls, debris flows, and lahars triggered by volcanic activity.
Hotovec-Ellis studies tremor and how it changes over time at a volcano site as part of her research. There are a lot of ideas about what causes tremor, a volcanic vibration that can last up to minutes or days, most likely arising from the movement of magma or other subterranean fluids. This can cause hundreds of tiny earthquakes that blend into a continuous signal. One of her favorite research projects captured this phenomenon as a seismic "scream" at a 2009 eruption at Alaska's Redoubt volcano. "It was an exceptional data set and uncovering what happened really came together in a cohesive and unique story," Hotovec-Ellis recalled. The research was widely covered by news outlets from Wired to National Public Radio's Science Friday.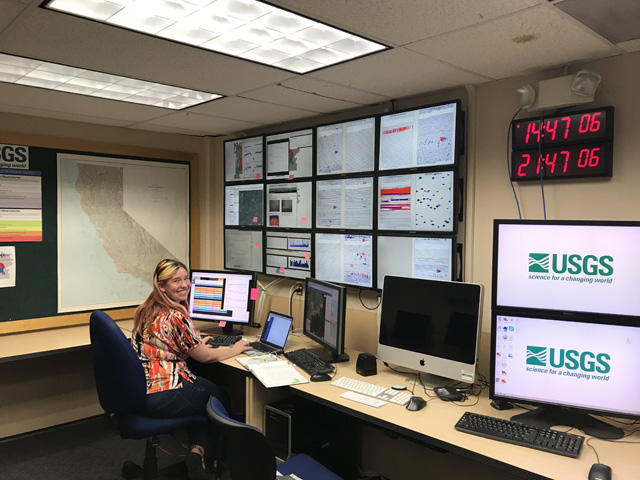 At the USGS, Hotovec-Ellis works with other volcano seismologists as well as researchers in geodesy, hydrology and other disciplines to understand the complex systems behind volcanoes. When Hawai'i's Kīlauea volcano erupted in 2018, she was part of a 24/7 remote monitoring team that kept an eye on all the geophysical data streams being collected during the ongoing eruption and contacting the scientists who were on the ground at the volcano to give them a heads-up about how the situation was changing from hour to hour.
Although fieldwork isn't a large part of her career now, Hotovec-Ellis cherishes the time she spent at as a University of Washington Ph.D. student traveling backcountry forest roads to install temporary seismometers for the Imaging Magma Under St. Helens (iMUSH) project. Her first "real" camping trip during those days, she said, came after a helicopter lift into the Mount St. Helens crater for her master's work.
"A lot of what I do now is legacy data dumpster diving," she said, "going back through old seismic records and finding exciting things that were missed." Hotovec-Ellis also enjoys developing code, such as her REDPy (Repeating Earthquake Detector in Python) tool for automated detection and analysis of repeating earthquakes in continuous data.
"I like taking ideas from the scientific literature and turning it into something I can use for real-time monitoring and figuring out the best ways to visualize the data," she said. "These are complicated and messy systems but if you go into this field, you have to love a challenge."
SSA At Work is a monthly column that follows the careers of SSA members. For the full list of issues, head to our At Work page.