14 September 2020–In 2004, Brian Terbush climbed Mt. St. Helens in Washington State. The trip fueled his fascination with volcanoes, and he "jumped on the chance" to go to graduate school to study them further. "I've been lucky to get to see lots of volcanoes erupting and get a little closer to them than is probably advisable, or certainly than I'd recommend that people do," he joked.
As the Earthquake/Volcano Program Coordinator at Washington State's Emergency Management Division, Terbush's recommendations keep the state's residents safe from geologic hazards and help them rebuild when these disasters strike.
Terbush and his colleagues work with regional, state, county and tribal governments to prep people and systems to be ready for earthquakes, tsunamis and volcanic eruptions. They coordinate mitigation efforts, prepare educational materials, and support local emergency managers. "When a disaster happens, our goals are to save lives, protect property and preserve the environment and the economy," he said.
The division does this through smaller projects, such as advising a community how to retrofit structures to be more resilient after an earthquake, and larger initiatives such as the Two Weeks Ready campaign to prepare for major disasters such as a large earthquake in the Cascadia Subduction Zone (CSZ), and the Great ShakeOut earthquake drill, which had 1.54 million participants last year, Terbush said.
Despite the attention that the CSZ has received in recent years, earthquake preparedness "isn't as much a part of the culture in Washington" as it is in places like California, said Terbush. "We want people to understand what the hazards are, and understand what their risks are, but we also want them to understand that they can protect themselves.
"We tell them, 'you can't change that an earthquake or eruption will happen, but you can change how much it impacts your life,'" he added.
Terbush is a member of the West Coast's ShakeAlert outreach group that is helping Washington State residents prepare for the widespread use of the earthquake early warning system for the Pacific Northwest. He does work on some technical aspects of the ShakeAlert system, but "our focus in this is making sure that when people get that warning message, they know what to do," he said.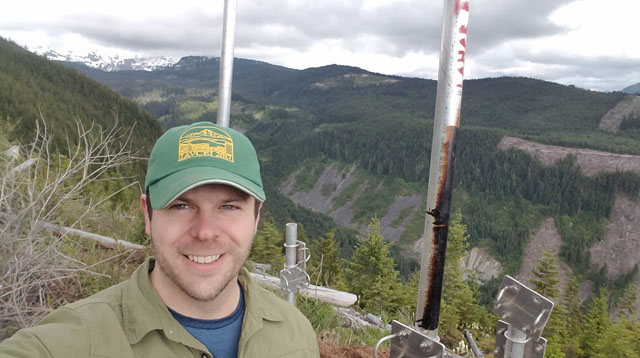 Communication skills are key in Terbush's job, and he is conscious of the fact that one message does not fit all in emergency management. He and his team get the word out in podcasts, videos, one-on-one meetings, and brochures.
"The biggest thing is to maximize the amount of messengers sharing a consistent message, and to get the message out in lots of different ways," he said. "It might matter who's sharing it, it could just be how a brochure looks, it might be the people in a video, and we try to publish things in as many languages as possible. Something is always going to reach somebody new."
These skills have come in handy since March this year, as he and other state emergency managers turned their attention to the COVID-19 pandemic. Terbush has been coordinating support for local areas to make sure that supplies of personal protective equipment are delivered to the right spots, and that food banks have enough staff to cope with surging need. "On the messaging side, we respond to people quickly with information and where to get more information from the experts, as we always have," he said. "People respond positively to that, when we are transparent and open."
Terbush didn't know that emergency management "existed at the level it does when I applied for this job," and one of his goals is to get more scientists to interact with local emergency managers. "We have things we need to know, and there are people who can seriously benefit from their research," he explained. "It's great to meet more scientists willing to have a conversation about what their research means and where it stands in the broader picture of disaster mitigation."
Terbush has participated in  ongoing binational exchange with Colombia, established by the U.S. Geological Survey and USAID after the 1986 eruption of the Nevado del Ruiz volcano in Columbia, which killed tens of thousands. Nevado del Ruiz shares some hazards with Mount Rainier in Washington, and "working with the Colombians can help ensure that this level of volcanic disaster doesn't happen again, there, or in the Cascades," he said.
One of Terbush's goals is to develop an educational program for Washington schools that is similar to some of the efforts in Colombia. Colombian students near Nevado del Ruiz and other Colombian volcanoes share their stories and talk about the "culture" of living in the shadow of their volcano, he said. "It would be an interesting experience to do that here, to combine that with learning about the hazards and create a better understanding that our volcanoes are part of living in one of the most geologically-active places in the U.S."
Despite thinking about natural hazards every day, Terbush has not lost his love of volcanoes. "They carry that same natural beauty. I never get tired of driving and seeing Mount Rainier out," he said. "The other part is knowing that it can drastically change in a matter of seconds. As historian Will Durant said, 'Civilization exists by geological consent, subject to change without notice'. When scientists and emergency managers work together effectively, we can limit the impacts of those sudden, but inevitable changes."
SSA At Work is a monthly column that follows the careers of SSA members. For the full list of issues, head to our At Work page.