18 August 2023–It sounds like science fiction, but one of Carene Larmat's tasks as a geoscientist at Los Alamos National Laboratory is time reversal.
"During my Ph.D. it became possible to perform time reversal of the seismic waves created by an earthquake, using a supercomputer and the full waveform solver SPECFEM3D that was then in its infancy," Larmat explained. "Time reversal is a fascinating idea based on the symmetry of the time-axis for the wave equation. We can use computer models to make the wave retrace its path backward and tell us where, when, and how the waveforms were generated."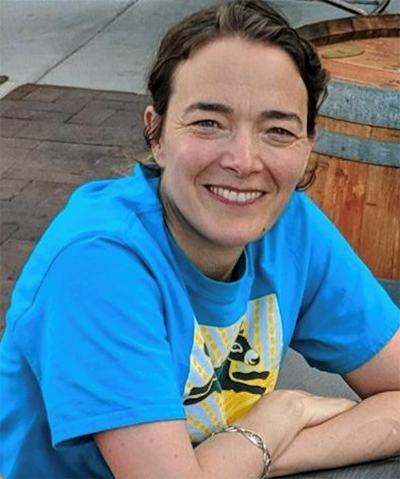 Larmat started at Los Alamos working on time reversal, and soon found herself involved in a variety of projects in computational seismology and acoustics, as well as glacial, explosion and planetary seismology. "This topic opened doors for me as there are many applications of time reversal in acoustics, non-destructive testing, medical imaging and treatment," she said.
As a modeler, Larmat is at her computer working on several different projects on a typical day. "Some days this is empowering, passing from one topic to another," she said. "Other days, it is challenging. In any case, I am rarely bored."
She and her colleagues depend on high-performance computing for their projects, noting that this has been essential to move the field of seismology from empirical models to include more physics-based models. "Empirical models have been very successful, but there are questions about their limitation and application to particular problems," Larmat said. "For example, how confident can we be on using them to areas that are in a different tectonic regime than most of the data used for their development?"
"We need physics-based models to interrogate the sanity of data-based models—do they fit basic physics or principles?" she added.
Larmat said computer codes are now used to extend the range application of empirical models, which is "particularly important work now with the emergence of machine learning that has brought back data at the core of scientific research."
Over the course of her career Larmat has learned several computer languages, and Python is now a big part of her research. "However, I would say that language is secondary to developing good habits to develop robust algorithms, and so I stay curious about algorithm development and ideas."
One of the career lessons she is still learning, she said, "is to listen and not pre-judge ideas or papers before actually learning about them. This is particularly difficult these days as it is important to filter the noise and bad quality work quickly in order to survive."
Larmat first became interested in seismology as a child, watching the news on television about massive mudslides in Colombia and the Loma Prieta earthquake, she recalled. "I was fascinated by scientists who could think about these big phenomena that involved extraordinary amounts of energy, beside the loss of life or livelihood for many people."
Her path in school was mostly geared toward math and physics, but a geology class her second year in college brought her passion back to being a seismologist, she said.
Among Larmat's dream projects for the future are "waking up InSight and giving it a new seismometer companion on Mars, and I also often think about a float of seismometers on other planets and moons."
"Listening to the natural noise and waves on other worlds make them real as we, as humans, can hear them going through natural processes and project ourselves walking on their surface," she said.
SSA At Work is a monthly column that follows the careers of SSA members. For the full list of issues, head to our At Work page.