15 May 2020–When Janis Hernandez was studying for her associate degree, she took an introduction to geology class to meet a science requirement.
"After that, I kept thinking, 'what's wrong with me, why am I thinking so much about rocks?'" she says. "It was just so interesting. And once you study geology and you're a geologist, you can't turn it off. Your brain is always working when you see a landscape, when you travel or do anything else."
After earning her bachelor's degree from California State University, Fullerton and working as an engineering geologist consultant in the private sector, Hernandez joined the seismic hazard zonation program with the California Geological Survey (CGS) in 2001. Today, she is a senior engineering geologist and manager of the CGS's Southern California Regional office.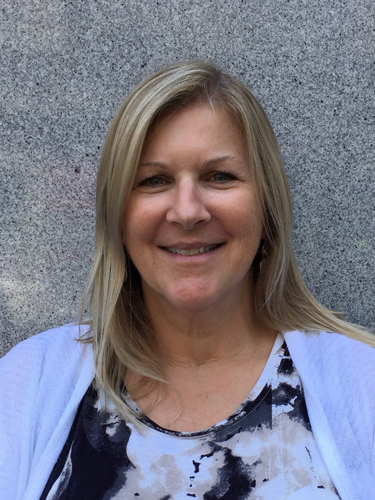 The Survey's engineering geologists work on detailed geologic mapping and generate derivative maps that focus on items such as mineral resources, landslides, and seismic hazard zones of required investigation.  The geologic maps and regulatory seismic hazard maps are used by counties and cities in consideration of planning and development and used by the consulting community in performing site-specific evaluations, says Hernandez.
As part of this task, Hernandez and her colleagues perform geologic mapping to create detailed seismic hazard zone maps over a region, looking at soil properties like liquefaction and bedrock strength and orientation, including dips, folds and faults. For specific faults, like the Hollywood fault that Hernandez worked on for two years, the Survey's engineering geologists evaluate the evidence for recent—in this case, within the last about 12,000 years—seismic activity before drawing up an earthquake fault zone map.
The geologists work on a variety of projects, some short term and others taking years, which keeps the job interesting, Hernandez says. For instance, she and her colleagues continuously review geotechnical reports commissioned before the construction of new schools, community colleges and hospitals built by the state of California. Their geologic evaluation of the reports prepared for these sites gets passed on to the state architect.
"We're analyzing information across all parts of the state, not just where our office is located, which is really cool, because we don't get to go out to the field all the time," Hernandez says. "But at least we still get to learn the nuances of the local geology of the area by evaluating these geotechnical reports."
CGS engineering geologists are also "on call" for special events, like mapping post-fire debris flow potential areas of risk, or mapping landslides to call awareness of these geologic hazards for potential mitigation methods. Last summer, Hernandez herself was the first CGS scientist on the ground after the 4 July Ridgecrest earthquake sequence.
Hernandez had attended an earthquake response planning meeting with U.S. Geological Survey scientists a week before the Ridgecrest earthquakes. After the magnitude 6.4 earthquake, she and a USGS scientist drove to the place "where Twitter feeds were telling us that the rupture crossed the highway," she says. They took initial measurements of the offset at the rupture, returning after the subsequent magnitude 7.1 earthquake to collect more measurements. She spent most of July mapping and collecting data on the event.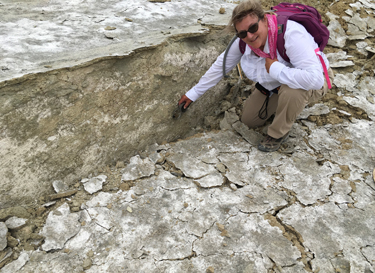 The findings are put into state and national seismic databases to guide both immediate response and future hazard mapping, says Hernandez. "In the beginning, our data help direct any sort of utility repairs or infrastructure or road repairs," she explains. The CGS will use the fault trace mapping and measurements to create a new earthquake fault zone map, "so that in the future, if any building is going to be placed within the fault zone, now they have fault zone that they have to answer to, to see if there any fault traces where they want to put future structures."
The Ridgecrest experience and others like it remind Hernandez of another part of her job that she enjoys—the opportunity to partner with other researchers at the USGS, at local universities and in industry and consulting. "I think that working as an engineering geologist is exciting because you have a lot of variety in your work and in who you work with," she says.
In 2019, Hernandez was named Cal State Fullerton's Alumni of the Year. "I recently saw one of my former college professors, who nominated me for the award," says Hernandez. "And she told me, 'Janis, you have my dream job!'"
SSA At Work is a monthly column that follows the careers of SSA members. For the full list of issues, head to our At Work page.