14 March 2022–As the Regional ShakeAlert Coordinator for the Pacific Northwest Seismic Network, Mouse Marie Reusch often fields questions about earthquake early warning from the public.
"For earthquake early warning, a big misconception is that it's prediction, and it's not," Reusch explained. "An earthquake has already started somewhere, and we're sharing the information that you might experience shaking from it."
As part of its technical implementation plan for Washington, Oregon and California, ShakeAlert continues to build its capacity, installing 86 seismic stations in the PacNW last year, Reusch said. As part of her job at PNSN, she helped with the requests for proposals and now manages the contracts to build these stations, including the documentation needed to permit sites, to build enclosures, and then complete the installations. "It's a lot of moving chess pieces around and allocating resources," she said.
Building out a seismic network that covers both urban and wild areas has its bureaucratic challenges. The stations are installed on both public and private lands, and the project must look for sites where an installation would not have a negative impact on wildlife. One of the network's seismic stations is inside a historic building, and because the building's façade could not be altered the GPS is mounted inside in a window. At least as sensors and other station technology has shrunk in the past five to ten years, Reusch noted, "you can have a much smaller footprint for a seismic installation."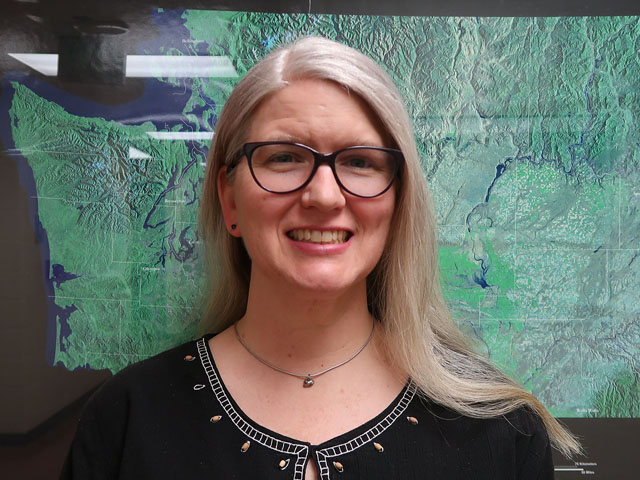 Occasionally Reusch gets a chance to go into the field herself to help build the network. Her love of the outdoors was part of what eventually led her to the earth sciences. She began her undergraduate studies as a political science major, "but it just didn't click," she says. She tried out several other majors before landing on a geology degree. "There's nothing wrong with not knowing what you want to do," she advised.
After "really falling love with earthquakes and tectonics" her last undergraduate semester, Reusch went on to get her Ph.D. in geophysics and seismology. "I loved fieldwork and being outdoors and traveling and teaching," she recalled, "but the proposal writing and the papers, it just wasn't as fulfilling to me."
Before joining the PNSN, Reusch worked for six years as a staff scientist and data group supervisor at the IRIS/PASSCAL Instrument Center, which provides expertise and instrumentation for seismological experiments around the world, including those funded by the U.S. National Science Foundation and Department of Energy. "I supported all kinds of science there … and it really made me feel more complete," she said. "I felt like I was contributing."
At the PNSN, Reusch regularly speaks with the public and media on topics from local earthquake hazards to more remote events like the recent Tonga volcanic eruption and tsunami. Public speaking comes easy to her, she says, having given talks on seismology in libraries, retirement centers, museums and Science on Tap events in Washington. "There are always people who want to learn more about the science, and I try to be one of those people who can explain it so that people can understand and enjoy it," she said.
Reusch's dream project would be to have a dense offshore ocean bottom seismometer network off the Pacific Northwest coast. "Now we struggle with most offshore events, even little ones at the Blanco Fracture Zone or at the Mendocino Triple Junction, because we only have seismometers on one side of the faults," she explained, referring to fault zones off the coasts of Oregon and California, respectively. "It would give us so much more information about initiation and progression of events in the Cascadia subduction zone."
For now, Reusch works to improve data transmission for the ShakeAlert system and balancing the installation of new stations "with keeping these places beautiful," she said. "I enjoy being tied to my region and being involved in helping the people here."
SSA At Work is a monthly column that follows the careers of SSA members. For the full list of issues, head to our At Work page.