14 April 2023–As he studied subduction zone seismicity, Wasja Bloch noticed that water was sometimes used as a wild card when it came to explaining what lays below these complex tectonic plate margins.
"If people do interpretations of subsurface images and something's odd, they sometimes pull the 'fluid joker,'" Bloch said. "That was a little unsatisfying to me, so I wanted to know more about where these fluids come from and where they are going to."
Bloch, a postdoctoral researcher at the University of British Columbia, has focused his research on the substructures of convergent plate boundaries, and in particular the water cycle at these boundaries, where he is "trying to demystify the fluid joker," he said.
Ocean water within a subducting slab can move deep into the earth before being returned to the atmosphere as water vapor erupted from volcanoes. Subducted water and the minerals it creates can influence seismic activity at subduction zones, where most of the world's largest earthquakes take place. "Through this cycle," Bloch said, "the Earth is always changing."
Bloch uses both local seismicity generated by smaller earthquakes and teleseismic waves generated by large earthquakes to develop a better picture of the deep water cycle and the material properties of the down-going slab in subduction zones. The seismic data offer a glimpse at where fluids are altering rock properties and mineral orientations, along with determining the depth to which the subducting slab is still hydrated.
"Local seismicity can give very detailed images, but it is like looking with a magnifying glass at a tiny spot of the Earth, so whatever one finds out with local seismicity may not be applicable 100 or even only 10 kilometers down the [subduction] margin," he explained. "Teleseismic data give more of a margin-wide or global look."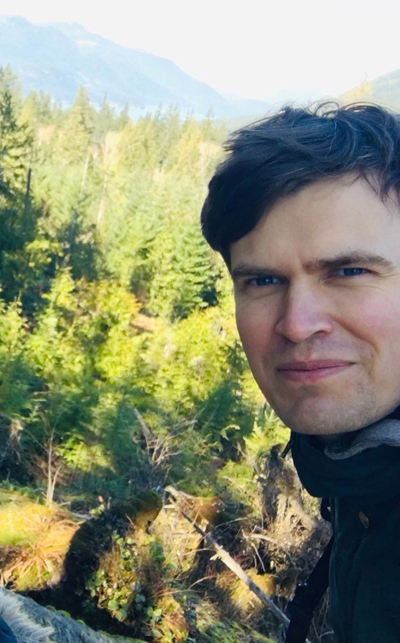 Visualizing slab properties and the movement of water are important in this kind of research, and Bloch spends time and effort on creating graphics with meaningful scale. He uses several open-source tools and has picked up techniques from colleagues across his career. "Data sharing and code sharing has a long tradition in seismology, and it makes the work very pleasant, learning from other people," he said.
Bloch studied geosciences in Germany, finding that "geology was a little too far in the past for me, so I went into geophysics." The seismology group at Freie Universität Berlin, where he received his master's and Ph.D. degrees, "got me hooked. There were so many structures to study, and seismograms are beautiful."
Most of the questions he gets from non-scientists about his work are about large earthquakes and what causes them. "I don't think it's as well known that you can use earthquakes as an energy source to study the Earth's interior," he said.
As he approaches the end of his postdoc, Bloch said he'd be interested in moving "more to the engineering side of things," with an interest in induced seismicity. Climate change and the energy crisis in Europe have him curious about work opportunities in geothermal energy and carbon sequestration.
He already studies fluid-induced seismicity, he said, "but by nature and not people, so it doesn't feel that far away."
SSA At Work is a monthly column that follows the careers of SSA members. For the full list of issues, head to our At Work page.