Eastern Section SSA
2016 Annual Meeting

From the Mantle to the Surface:
Joint Meeting of the Eastern Section of SSA and NGA-East
23–26 October 2016
Reston, Virginia, USA
Sheraton Hotel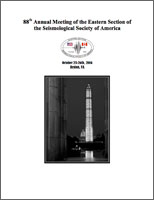 Printable Meeting Program
Chaired by Thomas Pratt, Oliver Boyd, and Christine Goulet
Contact program chairs.
Important Dates
Student Travel Grant Application Deadline: 26 August 2016
Hotel Room Block Reservation Cutoff: 2 September 2016
Abstract Submission Deadline: 19 September 2016
Online Discount Registration Deadline: 23 September 2016
Final Online Registration Deadline: 21 October 2016
Preliminary Session Topics
Lessons Learned from the 2011 Virginia Earthquake, NGA-East, USArray, Induced Seismicity, and topics related to CEUS Geodynamics and Earthquake Sources and Ground Motions
Meeting Schedule
Sunday 23 October
8:30 AM
Field Trip
6:00 PM
Registration
6:30 PM
Ice Breaker, Cosmopolitan Restaurant, Sheraton Reston Hotel
Monday 24 October
8:30 AM–5:30 PM
Technical Sessions
6:30–8:30 PM
Banquet Dinner
Tuesday 25 October
8:30 AM–5:30 PM
Technical Sessions
Wednesday 26 October
8:30 AM–3:00 PM
NGA East
Abstract Deadline: September 9, 2016
Online abstract submissions are now being accepted at https://www.seismosoc.org/meetings/ssa2016/es/absub/.
Registration
Online registration is now available at https://www.seismosoc.org/meetings/ssa2016/es/reg/.
Registration at the normal rate of $175 will be available through 23 September 2016. Online registration will be available at a higher rate of $200 from 24 September 2016 through 21 October 2016. On-site registration also at a rate of $225 will be available 23–26 October 2016. The student rate for registration will be $85 before September 24, and $100 afterwards.
The registration fee includes the meeting program, continental breakfast, lunch, morning and afternoon coffee breaks, and the Icebreaker Reception on Sunday evening, 23 October. If you are registering at the student rate, you will be required to present a student ID at the registration desk at the meeting.
Banquet
A dinner banquet will be held on Monday evening, 24 October from 6:30–8:30 PM in the Sheraton Hotel. Tickets for the Banquet are $65 ($35 for Students with valid ID).
Student Travel Grants
Travel awards for students submitting abstracts will be available on a competitive basis. To apply, send an email to olboyd@usgs.gov with "ES-SSA Student Travel Grant Application" in the subject line, listing the following information: first and last name, title of paper, estimated travel expenses, and any other sources of funding available to you for travel to the meeting. Applications are due by 26 August 2016.
Student Awards
Awards will be given for the best oral and poster presentations by students.
Field Trip
"Geology and Earthquake Engineering, Washington, DC" – $60 per person
Sunday 23 October – Meet at 8:30 AM in lobby of the Sheraton lobby – return around 5:00 PM
This field trip will introduce participants to the geology beneath Washington, DC, will discuss the influence of the geology on ground amplification, and will discuss the damage from the 2011 Mineral, VA, earthquake and the repairs made to two iconic buildings. The first half of the field trip is to understand the influence of the shallow geology on ground shaking in Washington, DC, and particularly during the 2011 earthquake. We will visit the Great Falls of the Potomac to see the crystalline bedrock and discuss the tectonics of the area. We next will stop in Rock Creek Park to see the shallow deposits that overlie the bedrock, and see a Quaternary fault exposed within the city. Discussion there will include summaries of recent studies of the ground amplification caused by the thin cover of Atlantic Coastal Plain strata deposits overlying bedrock. The second half of the field trip will be to visit the Washington Monument and the National Cathedral, both of which were damaged significantly during the 2011 earthquake and have undergone or are undergoing extensive repairs. At these buildings we will discuss the causes of the damage, and the repairs of these iconic structures. A box lunch will be provided.
The City
Reston, Virginia, is located 18 miles west of Washington, DC's National mall, and 6 miles east of Dulles Airport. It is a city of about 60,000 people and home to the USGS National Center as well as many businesses. The meeting hotel is located about 0.7 miles from the shops and restaurants of Reston Town Center, and about 1 mile from the DC Metro station with service to downtown Washington, Reagan National Airport, and surrounding areas.
Travel Information
Sheraton Reston Hotel is located just minutes from Dulles International Airport, which is served by numerous airlines as well as a free hotel shuttle. Upon arrival at Dulles, phone the hotel at 703-620-9000, proceed to curb 2H outside baggage claim, and look for the Sheraton Reston Hotel Shuttle. When returning to the airport, inform the front desk, which will call the shuttle. Note that due to airport shuttle restrictions you will be dropped off at the arrivals entrance and you will need to proceed upstairs to check in; the hotel advises adding 15 minutes to your departure schedule to accommodate this requirement.
Hotel Information
Sheraton Reston Hotel
11810 Sunrise Valley Drive
Reston, VA 20191
Reservations: 800-325-3535 ("Eastern Seismological Society of America")
Rooms reserved at $179/night (+12% tax) until September 2
Important: Callers should reference Eastern Seismological Society of America when booking a room to get the group rate.
Located just off the Dulles Toll Road, the Sheraton Reston Hotel is easily accessible and conveniently located to the entire Dulles corridor. The hotel operates a free shuttle to and from the airport. The Eastern Section meeting technical sessions, icebreaker, and banquet all will be held within the hotel. A block of rooms has been reserved for the 2016 ES-SSA meeting starting at a basic rate of $179 USD (plus 12% including sales and occupancy taxes). For reservations, please contact the hotel at 1-800-325-3535.
Because of high demand in October, lodging reservations from the block of rooms being held for the ES-SSA meeting will be available only until 10 September 2016, so please make your hotel reservations before that date. Reservations received after that date will be provided on a space-available basis at prevailing rates.
SaveSaveSaveSaveSaveSaveSaveSave