This July, four SSA student and early-career members have been selected to receive Global Travel Grants to attend workshops or small meetings around the world.
Venkata Gangadhara Rao (Institute of Geophysics, Polish Academy of Sciences) will use the grant to attend the 2024 EGU General Assembly.
Leonardo Colavitti (Istituto Nazionale di Geofisica e Vulcanologia) will be traveling to Puerto Vallarta, Jalisco, Mexico to take part in RAUGM 2023– Annual Meeting of Mexican Geophysical Union.
Cassie Gann-Phillips (North Carolina State University) will go to Geo-Congress 2024 in Vancouver, Canada.
Felix Rodriguez Cardozo (University of South Florida) is going to Vienna, Austria for the 2024 EGU General Assembly.
Supported by the General Fund, the Global Travel Grant Program provides financial assistance to SSA student and early-career members attending a workshop, a small domestic scientific meeting or an international scientific meeting. The next application period will be open February 2024.
---
Student and early-career members are invited to apply for SSA Global Travel Grants every February and July. The grants of up to $2,500 dollars (plus an additional $500 to help cover parents' childcare costs) have already paid the way for dozens of SSA members to attend seismology-related conferences and workshops, in-person or virtual, hosted by other organizations worldwide.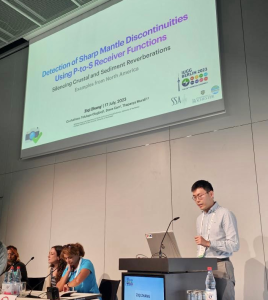 Ziqi (Evan) Zhang, a graduate student at the University of Rochester, received an SSA Global Travel Grant in February 2023 to attend IUGG 2023 in Berlin, Germany. "To me, the Global Travel Grant represents opportunities and possibilities – to share my work with the community, to learn the latest cutting-edge research, to expand my network and to broaden my horizons," says Zhang.
For Zhang, the assembly was more than a scientific conference; it was an opportunity to grow his network and make invaluable connections. "Being able to attend this meeting expands my professional network and has a great impact on my future research and career in academia" he says.
SSA Global Travel Grants are a unique opportunity for student and early-career scientists. "The SSA Global Travel Grant is perhaps the only student travel grant program that provides recipients with the resources to travel to any [seismology] conference around the world," Zhang says. He adds that "it provides a great opportunity to communicate science and to expand professional networks on an international level."