Current Issue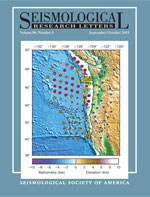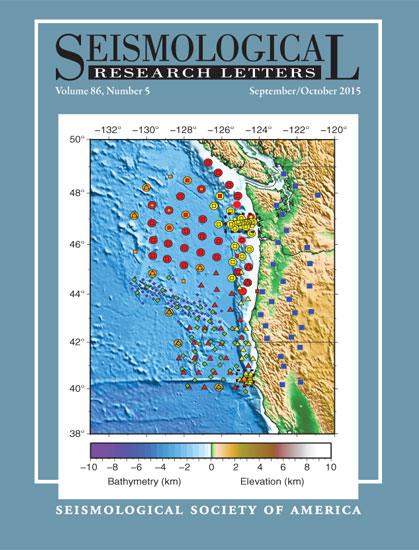 On the Cover…
The Cascadia Initiative, a community-based onshore and offshore seismic and geodetic experiment, is the subject of the focus section in this issue of SRL. The map here illustrates the project's amphibious array, deployed along the Cascadia subduction zone and designed to study numerous topics including megathrust earthquakes, episodic tremor and slip, volcanic arc structure, and the formation, deformation, and hydration of the downgoing Juan de Fuca and Gorda plates. Using data now available from the experiment, the SRL focus section provides a snapshot of current research that covers various aspects of this topic, including instrument performance, seismic structure and tsunami studies, and earthquake detection.
[ Close ]
Vol. 86, No. 5
September/October 2015

Seismological Research Letters provides a less-formal journal for communication among seismologists, engineers, and earthquake hazards-policy professionals. SRL includes articles of broad seismological interest, focus sections about earthquakes and contemporary topics, opinions, SSA news and more.
SRL features include Electronic Seismologist, Historical Seismologist, and EduQuakes, which connect science and the wider world of technology, history, social sciences and education.
SRL has the ability to quickly process and publish articles with preliminary reports about recent major earthquakes, allowing readers to keeping current. In addition to the bi-monthly full issues published online and in print, "E-First" SRL articles are now published weekly (on Wednesdays) at the Pre-Issue Publication Page at GeoScienceWorld.
Author Information
Online Column Indexes
The full text of SRL columns and opinion pieces can be read for free in the electronic edition of the journal at GeoScienceWorld.