Donations make a difference: Isabel Hong's journey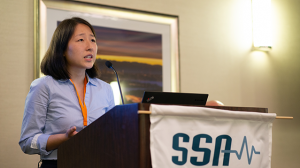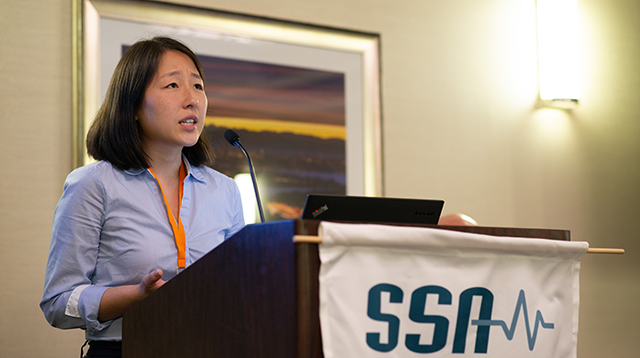 Isabel Hong has always been enthralled with earthquakes. As an elementary student growing up in Washington state, she made frequent leaps under her school desk for earthquake drills. And when an earthquake finally rocked her hometown, she felt prepared. "I wasn't fearful. I knew just what to do," recalled Hong, now a PhD candidate at Rutgers University. "That experience jumpstarted a fascination with earthquakes." 
Today she is well on her way to enjoying a rewarding career in earthquake science, thanks to the generosity of SSA members; their donations made it possible for her to attend the 2019 SSA Annual Meeting. Hong was one of 21 recipients of the SSA Annual Meeting Travel Grant, which covers registration costs and provides a stipend for lodging, travel and other expenses. 
"The intimate setting in which to discuss my research and hear about other investigations and experiments from other scientists was so valuable," Hong said. "I've been to a lot of other conferences, but this one was the first meeting where it was a deep dive into a specific field. The whole community was incredibly welcoming." 
When she heard that the meeting was being held in Seattle, Washington, Hong knew she had to go. "I knew it would be a great opportunity to meet with my collaborators whom I had emailed and talked to on the phone, but never met in person," she said. "My research is based off the coast of Washington, too, so I wanted some more time exploring the Cascadia region." 
And explore she did. Hong took full advantage of all the opportunities available at the Annual Meeting. "I had such a great time on the field trip; I got to spend some time with scientists and researchers in a more informal setting. Of course, everyone who was on the field trip had mutual interests, so making conversation was easy." 
At the career breakfast, Hong formed connections with her peers. "I finally met some of my collaborators from the U.S. Geological Survey." 
This past August, Hong successfully defended her dissertation on prehistoric earthquakes in the Cascadia region, using fossils of diatoms to track elevation changes over time. Presenting her work at the Annual Meeting, she said, was key to her success. The experience helped clarify her ideas, understand what final touches she needed to add and opened up occasions for discussion with seasoned seismologists. Although Hong has her sights set on academia, other meeting attendees who approached her after her presentation "opened up [her] eyes to other avenues" in which studying earthquakes can be a fruitful and fulfilling career. 
"I'm so grateful that I was able to attend the Annual Meeting," Hong said. 
Her experience wouldn't have been possible without the donors who generously fund SSA Student Travel Grants. Discover how you can ensure the future of seismology through a donation to the Student Travel Grant Fund today. 
---
SSA Travel Grants help students grow at 2018 Seismology of the Americas
University of Puerto Rico at Mayaguez student Vianca Severino Rivas wanted to attend at least one SSA Annual Meeting as an undergraduate. When she learned that Seismology of the Americas – SSA's joint meeting with the Latin American and Caribbean Seismological Commission – would be held in San Juan, Puerto Rico, she was convinced this would be her chance.
But Rivas' goal was jeopardized after Hurricanes Irma and Maria devastated the island and the Meeting was moved to Miami, Florida.
With the help of SSA's Student Travel Grant, however, Rivas – one of 12 recipients of the award – was able to make the trip.
In Miami, she delivered her first professional presentation and made important contacts.
"The feedback was awesome, something that I didn't expect," said Rivas, who will be moving to Seattle in the summer. "People came to me to talk about my work at the Puerto Rico Seismic Network and some of them told me that they know people in Seattle who would be interested in my work."
She wasn't the only Student Travel Grant Recipient who enjoyed the Meeting's networking opportunities.
Jefferson Yarce, a Ph.D. candidate at the University of Colorado Boulder, attended the meeting in search of feedback on his first paper, but Yarce found a more personal connection within the community.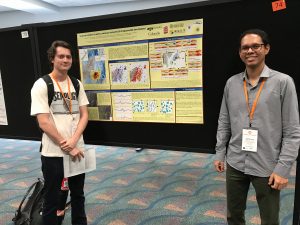 "The Meeting was special for me because I'm a Latino man from Colombia, and I was able to meet so many colleagues from Latin America."
He also met colleagues from throughout the world, including researchers from New Zealand he'd previously collaborated with on previous research.
"It was wonderful feeling like I belonged to a scientific community at the Meeting," said Yarce. "Now I know scientists that I can collaborate with in the future!"
For Claudia Aristizábal, who recently received her Ph.D. from Univeristé Grenoble Alpes in France, the Women in Seismology special event was especially significant.
"We discussed our feelings, past experiences, future perspectives and successes and frustrations about science," she said. "This reflection space allowed me to understand that there's still a lot that needs to be done to reach gender equality in geosciences. But I am glad to see that the SSA cares about female participation in science and brings these discussions up."
Lizhong Zhang, a Civil Engineering graduate student at the University of Bristol, saw the Meeting as the ideal space to present his research, learn new things and meet other students. "I definitely had some new ideas by looking at what other researchers are working," said Zhang. "Also, I felt motivated by discussing and testing different ideas with others."
Zhang wasn't the only student who found the Meeting motivational.
"The format and setting encouraged discussion, which really energized me about my research," said the University of New Hampshire's Pamela Moyer. Like many students, Moyer applied for the Travel Grant due to limited funding for travel at her university.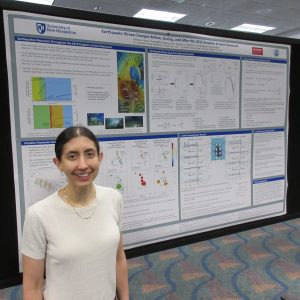 "I would not have had this opportunity without the grant."
Currently studying earthquake source parameters and rupture processes at mid-ocean transform faults, submarine volcanoes and deep South African gold mines, Moyer received valuable feedback on her presentation, discovered new seismological research and explored post-graduate options.
"There were people who expressed interest in my work and encouraged me to contact them about opportunities that may lead to full-time research following my Ph.D.," said Moyer.
The chance to collaborate with other scientists – from early career to experienced – drew University of Utah student Sin-Mei Wu to the Meeting.
"SSA provides great opportunities for students to learn, present and discuss with scientists within a relatively focused group," said Wu, who studies seismology's applications to hydrothermal systems. "I had opportunities to talk to lots of people, and I received lots of constructive feedback for my own research."
Wu also learned about possible connections between his research and other fields.
"This is very exciting to me as a student because what I've learned can be applied to a different area and make a contribution."
When asked if they would attend future SSA Annual Meetings, the answer was a unanimous yes – especially for Rivas.
"I will be moving to Seattle, and the next Annual Meeting will be there, so I am excited!"
Thanks to contributions from SSA members, Student Travel Grants provide modest awards to help fund the cost of travel to SSA meetings. Learn more about the program and consider helping future students by making a tax-deductible contribution to the Travel Grant Fund today.
---
Travel Grant Winners Find Community, Connections in Denver
This April in Denver at the SSA Annual Meeting, Anton Biryukov met one of his academic heroes.
"I had a chance to have a long chat with Rob Herrmann [of Saint Louis University], a true legend in seismology, who was willing to help me out with a few questions on my research," explained Biryukov, a doctoral candidate in earth sciences at the University of Calgary. "As I am using his codes, I have had numerous emails with him, but never saw him before the event."
Biryukov was one of 18 winners of the 2017 Student Travel Grants awarded to attend the 2017 Annual Meeting, chosen from a record number of applicants. He and many other winners said the meeting offered them an unusual chance to talk with some of the leading researchers in their field, in a setting that encourages in-depth discussions and thoughtful, personalized advice.
"We can actually shape the science of seismology regardless of age, and it's really the enthusiasm and hard work that eventually define our impact."

-Anton Biryukov
"Attending the SSA Annual Meeting is an incredibly useful experience, particularly for students," said Tiegan Hobbs, a Ph.D. candidate in geophysics at Georgia Tech. "Every luncheon, reception or pint-and-poster is a different chance to converse with other students, learn about a new topic and interact with seismologists at all stages of their careers.
"Personally, I have felt very inspired by conversations with more senior scientists," Hobbs added, "who have been kind enough to share their insights and knowledge about the fields they have helped shape."
The grant winners agreed that the smaller size of the SSA Annual Meeting, compared to other geosciences meetings, helped them seek out new research collaborations. Eddie Brooks, a Ph.D. candidate in earth and planetary sciences at Northwestern University, said the SSA meeting contains a large number of talks relevant to his field, as well as a schedule that leaves plenty of time for networking. "No other conference makes it so easy and straightforward for me to interact with people in my particular subfield," Brooks said. "I had a great time and left with some great ideas to continue researching."
Having a meeting that focuses directly on seismology is useful to students like Sunyoung Park, a Harvard University Ph.D. candidate in earth and planetary sciences, who attended the meeting for the first time with her travel grant and received a Student Presentation Award. "It was especially great to meet experts in earthquake engineering and hazards, which I've found to be difficult to do in other earth science meetings," she said.
One of the most popular events at the Denver meeting was the mentoring breakfast, which gave student and early-career seismologists a chance to ask top researchers in their field for career advice. "It was particularly useful for senior Ph.D. students like me, as the seasoned professionals provided valuable career guidance and industry insight," said Yenan Cao, a Ph.D. candidate in civil and environmental engineering and earth sciences at the University of Notre Dame, who also attended the meeting for the first time this year.
The mentoring session "was incredibly informative, and allowed me to ask specific questions about how best to pursue my academic goals in the short and long term," agreed Hobbs. "I left with a list of tasks and questions, which will help guide me in the coming years."
"The two activities that I enjoyed the most were the workshop on PSHA [Probabilistic Seismic Hazard Analysis] and the mentoring breakfast," said Maeva Pourpoint, a Ph.D. candidate in geosciences at Penn State. "The workshop was a really nice introduction to a different field of study, and both events gave me a good sense of the different career opportunities in seismology besides academia."
Along with Herrmann, Biryukov also met a young postdoctoral fellow who had written many of the papers he had read for his Ph.D. candidacy exam. The experience made him realize, he said, that "we can actually shape the science of seismology regardless of age, and it's really the enthusiasm and hard work that eventually define our impact."