International Travel Grant recipient Garmalia Mentor-William wanted to attend the 2018 Seismology of the Americas meeting to "meet other scientists, learn about new technologies and learn lessons from other countries" that could help Haiti – her home country – prepare for future earthquake disasters.
After the 2010 M7.0 earthquake that devastated Haiti, Mentor-William – a doctor at the time – decided to go back to school to get a master's degree in Emergency and Disaster Management.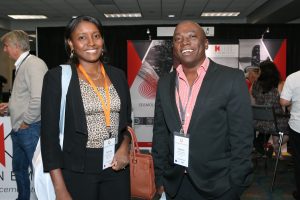 Today, she's the Haiti representative and Projects Coordinator at GeoHazards International, where she focuses on starting earthquake disaster awareness at an early age.
"I'm working on methodologies to integrate disaster awareness in the school and university curricula," she says. "I want to ensure that the new generations know how to cope with future disasters."
She also hopes to help Haiti's Ministry of Public Health launch a Hospital Incident Command System to make hospitals more resilient during disasters.
Thousands of miles away, fellow SSA International Travel Grant recipient Maria Mesimeri – a Ph.D. student in Greece at the time – saw the meeting as an opportunity to present her research for the first time outside Europe.
"Meetings like Seismology of the Americas are important," says Mesimeri. "Especially for students, because they can talk with respectful professors, get feedback on their work, discuss new ideas and make connections."
Now a seismologist at Aristotle University of Thessaloniki's Seismological Station in Greece, Mesimeri presented a poster on her dissertation, which focuses on locating and understanding earthquake swarms.
"My experience was awesome," she says. "I had a unique opportunity to talk about my work with a lot of people and get feedback, and I attended several sessions and learned about new methodologies and techniques."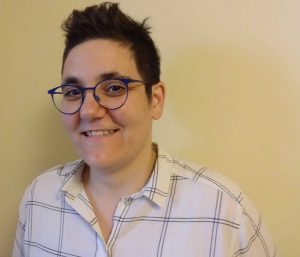 Mentor-William also had a productive meeting. "It was a great opportunity to make connections," she says, adding that inspiration went both ways at the meeting. A professor at the University of the West Indies wanted to implement a disaster awareness campaign similar to GeoHazard International's in Trinidad and Tobago and sought out Mentor-William's presentation.
"I was happy to know that my talk inspired other works and my experiences will serve other countries in the Caribbean."
Both Mentor-William and Mesimeri's travel grants were made possible by SSA's Kanamori Fund, which honors legendary seismologist Hiroo Kanamori.
Before he was renowned for his research on earthquake physics, real-time hazard monitoring or co-developing the moment magnitude scale, Kanamori says that opportunities to travel and work alongside some of the world's leading scientists played an important role in developing his career.
That's why the Kanamori Fund supports the professional development of students, seismologists and earthquake engineers.
"The grant helped me cover travel expenses as well as accommodation," says Mentor-William. "I'm grateful to donors for being so generous and thoughtful."
"It was very important," Mesimeri adds. "I wouldn't have been able to attend the meeting otherwise."
Both Mentor-William and Mesimeri encourage members to donate to the fund.
"There are a lot of students out there who need support," says Mesimeri.
Support seismology with a donation to SSA's Kanamori Fund today.